Today we are lucky enough to be a part of a blog hop and we have 2 versions of the Perfect Party Dress from Tie Dye Diva made by our team members Nichole and Victoria to show off. We're sending out a big "Thank You" to Handmade Dress Haven for hosting the Perfect Party Blog Hop and for inviting us to be a part of the tour!
Jen, the Tie Dye Diva, is an excellent pattern writer. And, for this week only, you can get these patterns for $6 each, instead of the usual $7.95. You will see the discount once you put the patterns in your cart. What a great deal!! There is no sale code and this is available on the website only. Shop HERE.
 
Be sure to check out these other blog stops for more gorgeous version of this dress!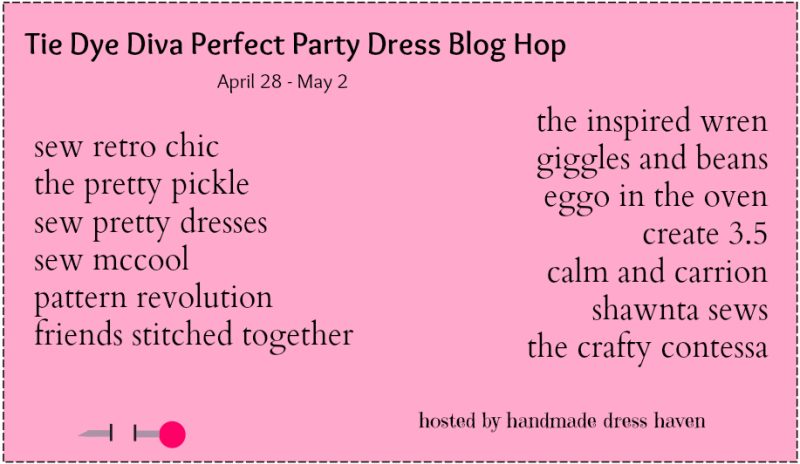 And now, our takes on this classic staple pattern!
Hey everyone!! I am Nichole, a Sew at Home Mom to two kiddos. I was super thrilled that I was able to get in on the Perfect Party Dress Blog Hop, for Pattern Revolution.
I kind of hate to admit this, but I had never sewn up a Tie Dye Diva pattern before. No reason why, but I'm kind of kickin' myself now. Moving on...
So, as you can see, I decided to add sleeves to this already perfect dress. (pun intended) Why you ask? Well, because we live in the frozen tundra known as the midwest. Remember the polar vortex? Yeah, that's us. It's lingering. Anyhow, we were due to have a chilly Easter, so I thought I'd add a little extra, albeit not that warm, coverage. And what do you know..we had one of the warmest Easter's on record. HA!
Now, I don't design patterns. I follow them. :) So, I had a different pattern on hand that I used for the sleeve.
They ended up being a little shorter than what I had imagined, so I decided to just roll hem the sleeves. Though that isn't a favorite way for me.
So, here is a little rundown of the different ways I embellished this very versatile pattern.
I always add my ribbon strips with some wonder tape and invisible thread.
I wanted to give this bib a retro look, so I went with some eyelet trim.
Looking purty already!! Love the width of the sash on this dress, so perfect!!
Here is my sleeve I used
I will often use elastic thread to gather my sleeves. It's either a great tip, or just makes me really lazy. Either way, I'm always happy with the outcome.
Sandwhich'ing the sleeve between the bodice and liner encloses the sleeve. No pesky seams to drive my girl crazy.
Getting there!
Isn't that pretty!! We are looking at the inside of the garment.
Sew up your sleeve and finish the seam allowance before you sew your bodice front and back together.


And the rest is history! Or, the rest is just following the pattern. :)
Here is the some more pictures of the finished product! :)
Just love that sash!
Perfect little buttons and bow!
Thank you so much to the team over at Tie Dye Diva's..I had a great time taking part in this blog hop!
Hi everyone! I'm excited to share what I created using the
Baby's Party Dress
pattern by
Tie Dye Diva Patterns
. I really wanted to give the dress a modern twist and show how versatile the pattern could be. Now I will warn you that I am not much of a writer. I prefer to sew, photograph, and admire. But I can do lists and outlines all day long as I find them easier to follow and keep my attention. So here it goes!
Being part of the
Tie Dye Diva Perfect Party Dress Blog Hop
, participants were asked to make a dress using either:
A) The
Baby's Party Dress
ranges in sizes 0-24 months
B) The
Perfect Party Dress
ranges in sizes 2T-10 years
As a twist, we were told we could make slight alterations to the original pattern to show our own variation and style.
I did just that by:
1) adding a small ruffled sleeve (instead of the original sleeve)
2) making the waistband higher
3) making the skirt fuller
4) adding little buttons to the bodice
All these were very easy changes/additions and I will share the details in this post
I would usually be making a 3T for my daughter but she is in an angry toddler stage of totally hating the camera and clothing. She wouldn't stand still long enough for me to take a decent picture even if I paid her in candy. Darn kids!
Luckily I made a local friend that kindly lets me borrow her adorable and much more cooperative baby girl for these occasions. She is a year old so I made the Baby's Party Dress in a size 18M for her.
It fit her perfectly and I think she really loved it!
I used the exact bodice pattern but didn't add the sleeves. I wanted to add a dainty ruffle around the armholes. I did this by:
1. Cutting a strip of fabric 2x44". Cut that strip in half to get two 2x22" stripes.
2. Fold in the short sides 1/4" twice (to hide raw edges). Now fold in half wrong sides together long ways. You have a ruffle strip.
3. Run a gathering stitch (or two like mine) at the unfinished end of your strip.
4. Gather and pin until it fits around the armhole (as pictured).
5. Sew and serge around armhole.
6. Flip the seam in towards the bodice and top stitch (like the right side).
The tutorial includes instructions on how the belt is added. On mine I just made the height taller to hit about 3/4" from the armpit area. Leaving enough room for the ruffle sleeve allowance.
Using the same fabric on the belt and skirt, gives the dress the effect of a high waisted skirt. 
My last small change was the skirt. I followed the length in the tutorial but almost doubled the suggest width. I prefer the look of a fuller skirt and it's easily customizable.
If I had an embroidery machine I probably would have added something pretty to the bodice but my husband might leave me if I buy another sewing related machine.
Kidding of course...but maybe not kidding.
The little buttons on the bodice were a last minute add but I think it finished off the dress perfectly.
Let talk about all the options the pattern has to offer for the back closure.
The tutorial explains and shows how to do all these methods:
A) Buttonhole method (which I used)
B) Snaps
C) Button and loop
This pattern also included directions on how to make a placket in the skirt back for easy on and off the child's body. We all know how hard it can be trying to slide a dress over your little lady's shoulders without one! It was very easy and the directions (with pictures) were very clear to follow.
My overall thoughts about this pattern:
1. The tutorial directions were easy to follow and pictures are great. Dress came together in about two hours for me
2. The fit of the bodice is perfect. I'm always on the look out for a great fit and I will use this one again for my baby dresses
3. Sewing around the armholes was a little tough but worked out well when pinned and sewn slowly.
4. Finished length was perfect as well. Hit right below the knee
5. The dress shape is classic and easy to modify to your taste
6. The pattern is full of options, and all are clearly explained and illustrated
Victoria Edwards