We're excited to be kicking off the One Thimble Issue 9 blog tour! Be sure to follow along. All of the tour stops are linked below. Happy 2nd Birthday One Thimble! Enter to win a copy of the latest issue at the end of this post.
Hi Everyone! Happy November! We are off to a fast start to the holiday season. I have the honor of reviewing One Thimble Issue 9. If you're not familiar with One Thimble, it is a digital sewing magazine, affectionately called an E-Zine. The magazine is released quarterly and is full of sewing patterns, tutorials, articles, and much, much more! Now, on to the fun of One Thimble Issue 9. This quarter's theme is Circus fun! With 14 patterns included, there is something for everyone!
Good Fortune Head Wrap
Vintage Circus Sit Upon

Vincent the Victor

Trapeze Eloise

Cross Bow Dress

Carnival Jacket

Timeless Treasures Skirt

Circus Toss Game

Ringmaster Pants

Ringmaster Top

Statement Clutch

Cheeky Monkey Softie

Christmas Felties

Pseudo Smocked Romper
I stitched up the Good Fortune Head Wrap by Rosie Petals and Statement Clutch by Two Pretty Poppets!
The Good Fortune Head Wrap is a super quick, versatile pattern. You can cut and sew in 30 minutes or less. It is the perfect accent to any outfit. The Head Wrap is available for newborns through adults. There are three band widths: wide, regular, and narrow. The chart included gives head circumferences the help get the perfect fit. One important thing to note is that fabric choice is super important!! You will need to choose a knit fabric with lots of stretch AND recovery. I sewed the wide and regular widths using Girl Charlee's lightweight cotton jersey from a KnitFix. My head circumference is 22 inches. The first head wrap is an adult small in wide width. Because of my fabric choice the head wrap is a little loose for me. The second head wrap is a child size 6-10 in regular width. I think this size and fabric combination worked well for me. So if you'd like to experiment with that special piece of fabric in your stash, you totally can play around with fabrics and sizes to find the right fit for you!
The Statement Clutch is so much fun. Yes, we've seen clutch purses before BUT this one is different! Look at the circle accent on the front. Isn't the circle a great way to showcase and use those fabric scraps that have been laying around? The Statement Clutch is quick to construct. From start to finish, it will take an hour (including fusing) but not including the hour to choose the perfect fabric. The best part is that this clutch is not a fabric hog. Mix and match your exterior top and bottom fabric to make a contrasting clutch. Add lace overlay to the flap for a more formal clutch. Do a little free motion embroidery to the flap using Vincent the Victor or Trapeze Eloise to continue the Circus theme. There are three sizes: small, medium, and large. I sewed the large clutch and all my date night essentials fit perfectly.
This issue of One Thimble is packed full of awesome techniques. I took the plunge with free motion quilting, embroidery, applique. There is an article on troubleshooting applique which was quite helpful in conquering my fears! As a handbag maker, I do a lot of fussy cutting to get the perfect placement on my bags. There's an article for that too! There are two things most new seamstresses are scared to try: (1) buttonholes and (2) zippers. You must read the article on invisible zippers. Have no fear; you'll be sewing zippers like a pro in no time! Have you ever lost your sewjo? Gosh, what seamstress hasn't! Learn how to get your sewjo back! Don't forget the feature on sewing the kids. My three are still a little young to begin sewing using a sewing machine; however, they are great with a needle and thread. Sewing is a door to empowerment!
One Thimble is available today! Go get your copy now!
Don't forget we want to see your creations! Post in Pattern Revolution's Facebook group or in the One Thimble Facebook group.
Until next time…
Denita
Ringmaster Top and Pants by Erica
Vincent, Eloise, and Good Fortune Headwrap by Nicole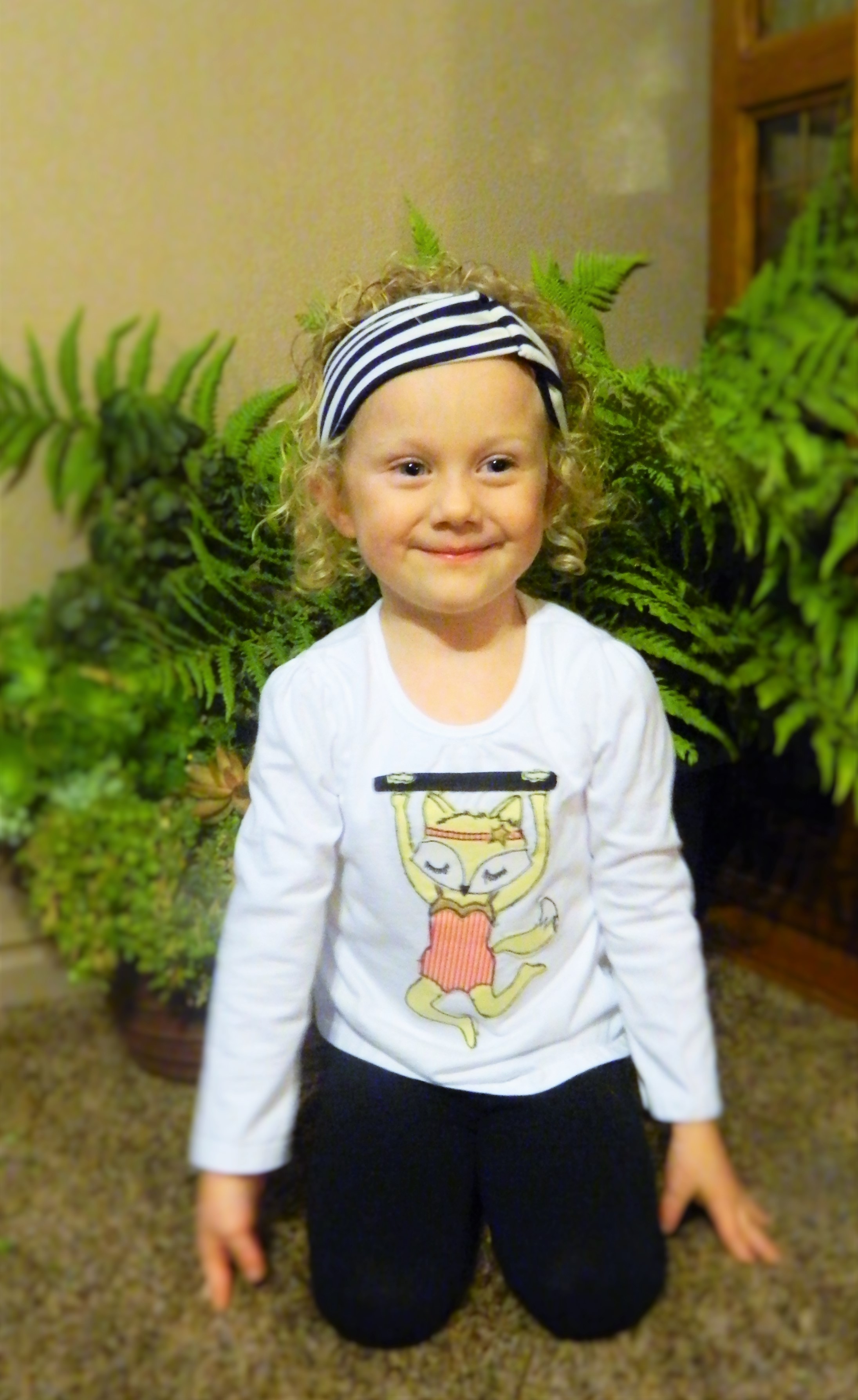 Good Fortune Headwrap by Kimmie
Enter to win your copy of Issue 9 (or Refund)