We're back again today with some more gorgeous looks for the holidays from our sponsors. Please help us welcome our new team members Nacole and Amanda as they share their first work for Pattern Revolution.
Howdy, I'm Nacole McGhin owner of Owl Feet Boutique .
I had the opportunity to review the Genevieve dress by Violette Field Threads. If you're like me, you fell in love with the dress when the testers started posting and couldnt wait to start your own. This is the first dress by Alexis Wright for VFT and it it's top notch. This dress features a beautiful flounce on the front bodice, Sleeveless and ¾ sleeve, button closures, placket and full skirt which has a bubble skirt option and vintage length option. The pattern calls for cutting the Flounce on the bias for the one I made I opted to use a beautiful mint green decorative lace. I did not cut on the bias, I cut on the fold and angled out from the arm holes to keep the decorative edge. VFT has made a blog post on another way to use decorative lace and still cut on the bias found here Lace Flounce mod by VFT. Alexis also posted a picture on how to do it the way I opted to found here.
This dress was such a pleasure to create for my little one. The trickiest part was ironing! I did minor modifications and decided to omit the placket. The fit was perfection. I made a size 4t for my daughter age 4 who measures 22.5 in the chest.
Instructions were very detailed, photos for each step. My favorite part of this pattern is that they include the measurements for the skirt piece and the actual pattern piece. I prefer the measurements but I read all the time on in groups that some have issues with just measurements and prefer pieces.
With Christmas coming soon I wanted to make my daughter a dress that was still classic but modern. This dress fit the bill. I grabbed some beautiful mint green snowflake fabric from Joann's during their fantastic Black Friday sale and stumbled across the lace and knew exactly what I was going to make. Christmas dresses usually consist of greens and reds so I was pleased with this not- so- common combination for the season. My daughter was in love with the major twirl factor that this dress had and loved the lace sleeves. She kept saying she was so "fancy".
See Denita's full review of Genevieve HERE.
Erica's LilyGiggle and Little Lizard King Holiday Outfit
Hi, I'm Erica again from Lollipops & Paisley. Today, let's talk holiday clothes… There's the over the top Christmas dress that gets worn in pictures. Then you have glittery tops from stores that spread sparkles all over your laundry room… Then there's the stuff we make. I try and always make the big fancy dresses, but this year, we went with comfort. Just because you go for comfort doesn't mean can't still have style and flare. So for all those fun trips out shopping or looking at lights or attending Christmas contadas, my girl will be cute and comfy!
I went with knit because I'm also lazy and don't like ironing things she wears often. I got the fair isle print and red solid from PurpleSeamtress Fabric on FB. If you haven't seen her prices on solid knits, you're missing out! For the patterns, I wanted pants that POP, so I went with LilyGiggle's Ring of Ruffles.
For the dress, I chose Little Lizard King's new Mod Dress with plain long sleeves and done in knit. Instructions to make this dress in knit are in the pattern! I will advise that if your child is between say size 5 and 6 and you decide to use knit, you don't have to sew the larger size. I'm crossing my fingers that this still fits Jenna next year! Happy Holidays!
Robin's Lily Bird Studio Holiday Dress
I had a hard time deciding on a holiday dress for Abby this year. Part of me wanted to make something super fancy, like Juliette's Dress. The other part of me tends to be a bit more down to earth, and that's the side that won over this time, so I chose Kate's Dress by Lily Bird Studio. I've made this dress before, and it is one I think is worth using at least once a year. I used the square yoke last time, so I decided to do the round for this one. Instead of piping I added a narrow ruffle at the bottom of the yoke to dress it up just a bit more. Abby loved her little deer dress and got tons of compliments as we walked around downtown. Still one of my favorite patterns too! Check out Hayley's Kate Tutorial HERE, and find out how to make it in knit HERE.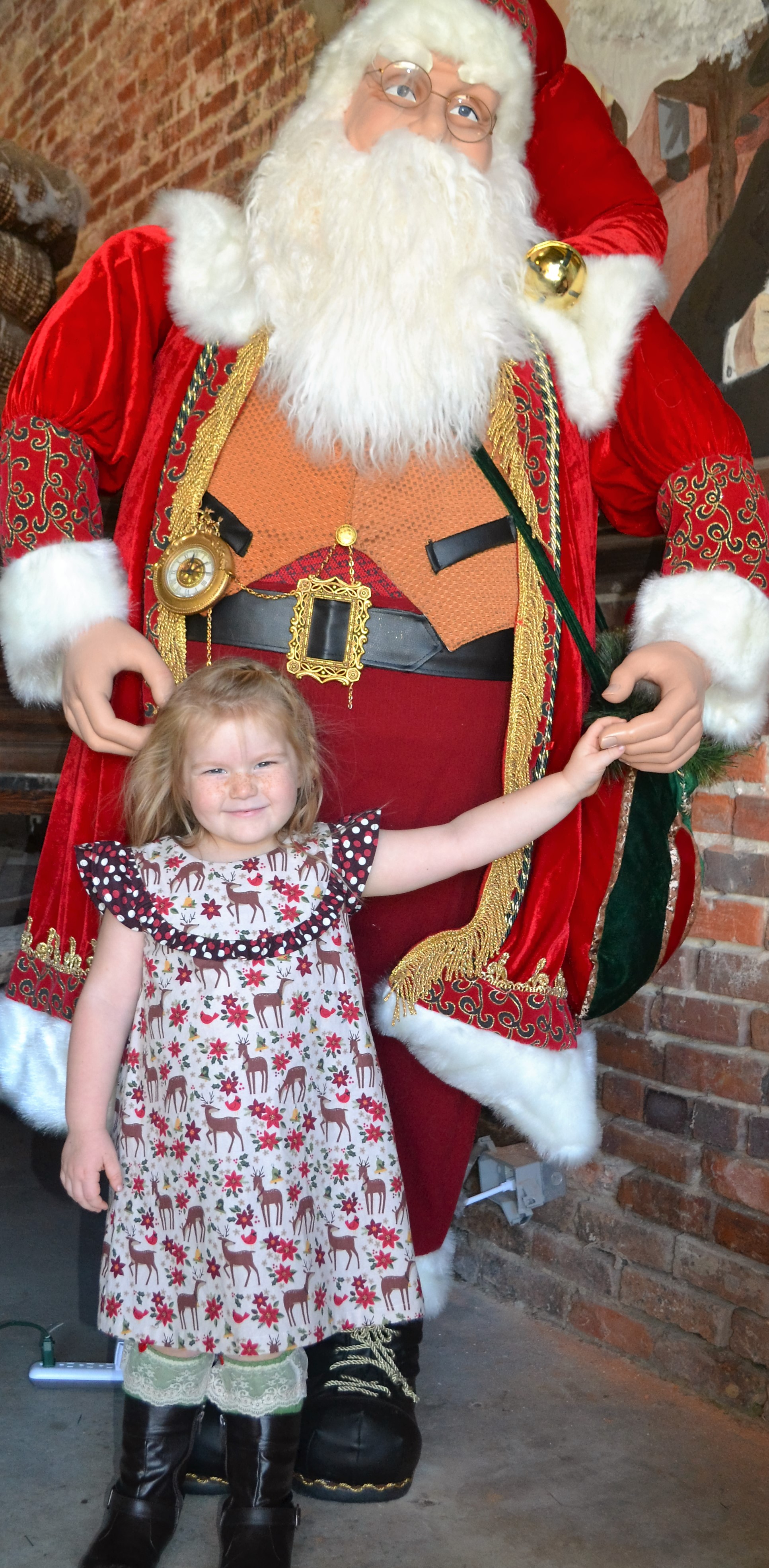 Amanda's Rosemary and Matilda
Need even more holiday inspiration from Pattern Revolution? Go HERE.