Hi! It's Ellen from ellzabelle here with some fun kimonos. I was so excited to try my first pattern from Designer Stitch and it did not disappoint. Ann from Designer Stitch sounds like such a talented woman. She runs the Designer Stitch School of Fashion and Design in Victoria, Australia in addition to making PDF patterns for women. WOW!!!! So impressive!
I just love artsy, bohemian clothes (maybe because I'm an elementary school art teacher). The boho style of a flowy kimono is my idea of perfection. I really love the Willow Kimono pattern. It has a huge size range (US 2-22) and by looking at the chart, I made a pattern size 3 which is a US size 6. It was a very easy sew and I even included French seams as suggested in pattern. I used some JoAnn's fabric from my stash and really wanted some fringe trim but after checking 3 stores, I couldn't find anything that I liked. I'll be on the lookout and add to it if/when I find it. You can add trim to the sleeves and/or the back for tons of different looks.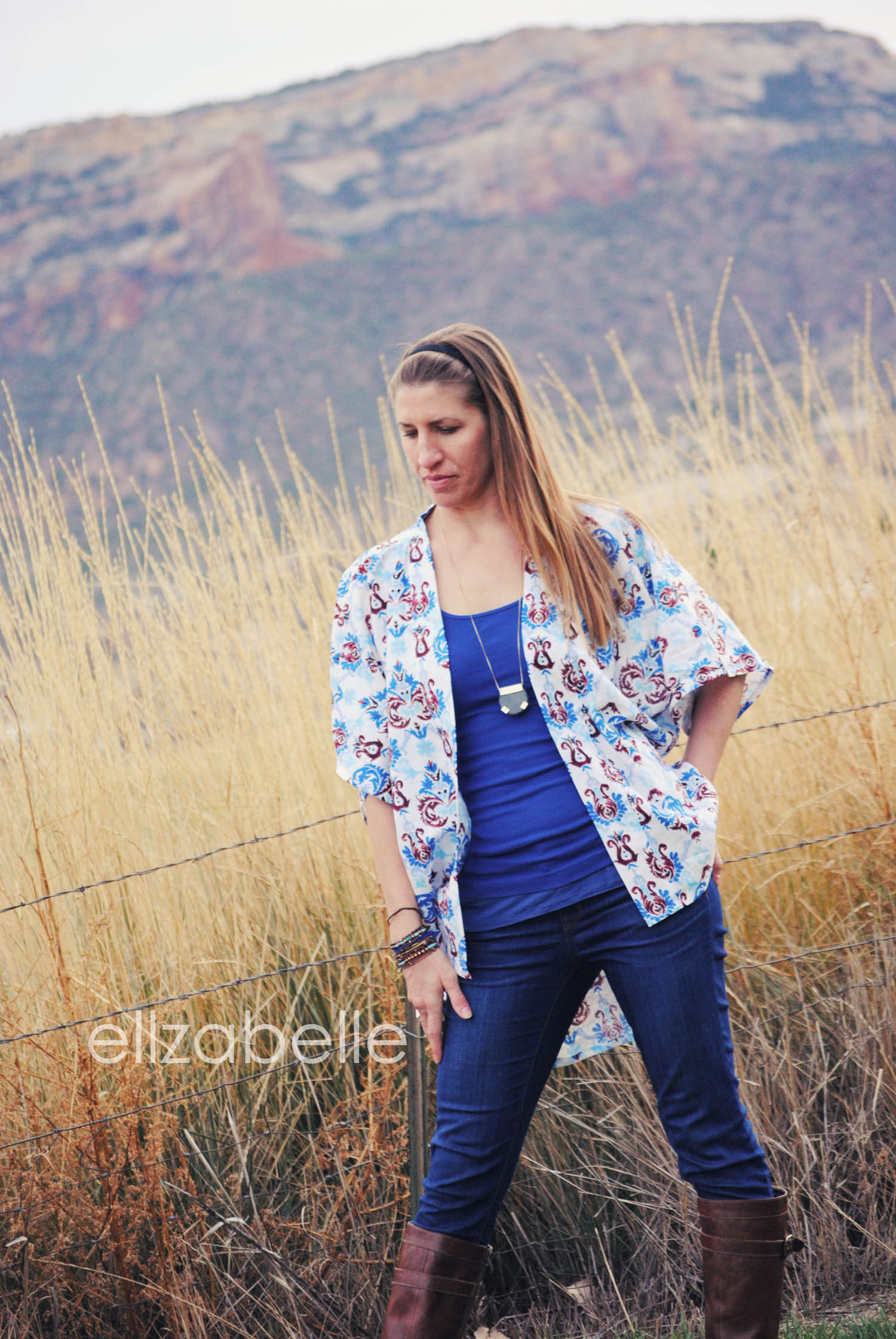 I ended up shortening the kimono to my liking but that is up to you! The pattern also includes full length which is nice. The next one i make will be with silkier fabric that flows a bit more. Something WILD and TRIBAL I think. And also one in black with black fringe that I can wear over dresses. When spring comes around I'll be making a kimono for the pool as a swim cover up too. I love how it turned out and hope to make the Gypsy Tunic Dress or the Alyse Wide Leg Pants next from Designer Stitch. Thanks Ann for an easy and fun pattern!
To go with my kimono, I wanted to make one for my daughter. I decided to go with Violette Field Thread's Giselle Kimono. It's a kid's pattern from size 2-10 and includes 3 hem options (straight, hi-lo, hi-lo with flounce). I decided to do the curved hem of hi-lo to match my kimono. VFT just came out with doll patterns for their kid patterns and I have to get my hands on the Giselle Kimono Doll Pattern so my daughter can match her doll.
I never know fabric names, but this was the first time I used very thin, see through fabric. It was a bit of a learning curve to sew and definitely didn't hold the iron's folds at all, but I got through it. Again, it was fabric from my stash and was perfect! I used a bit of black fringe trim that I had on hand too. I adore it. The pattern was VERY easy and I would rate beginner if you use cotton, maybe advanced beginner with silkier fabric. But it's a fun, quick sew and results in a very in style top.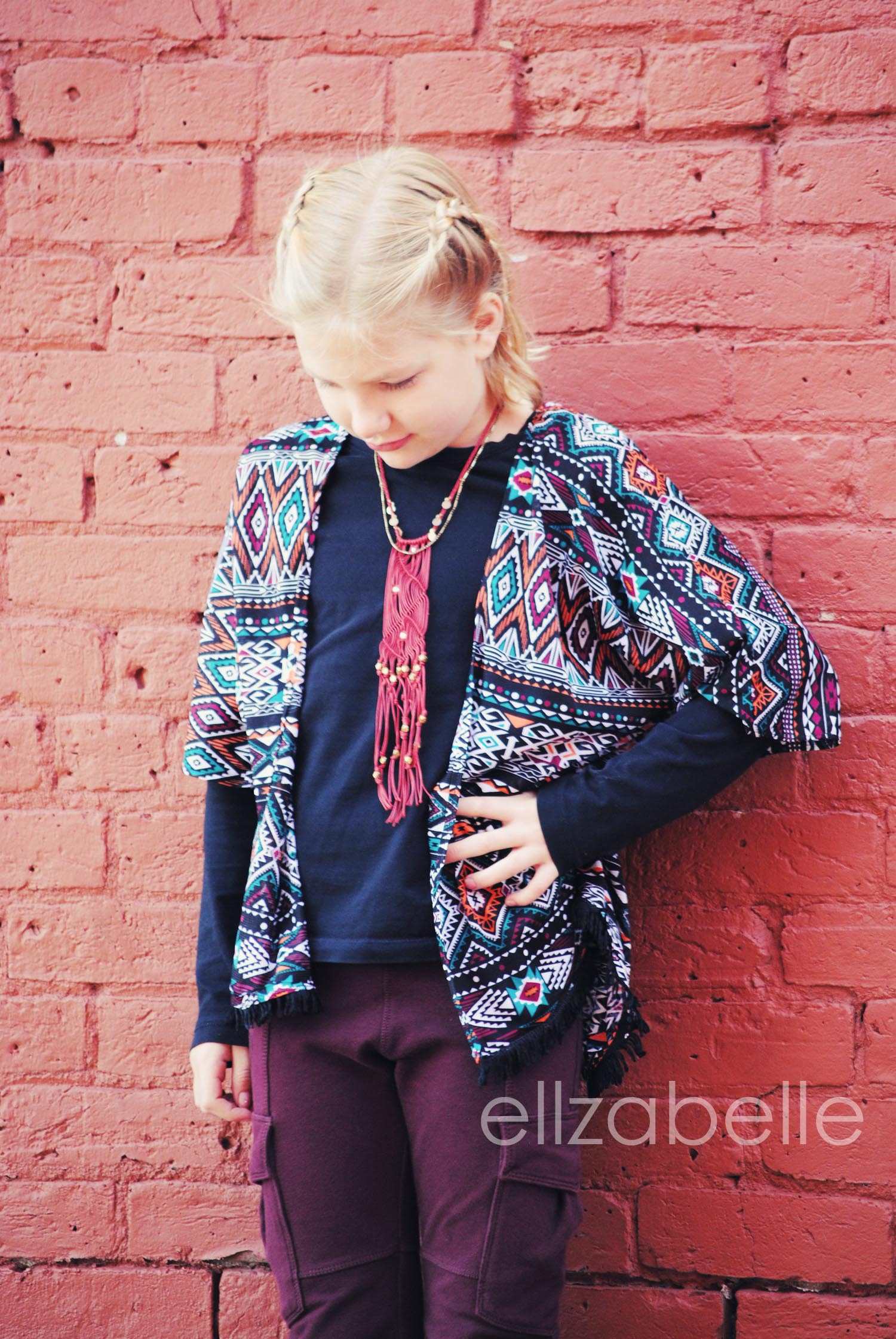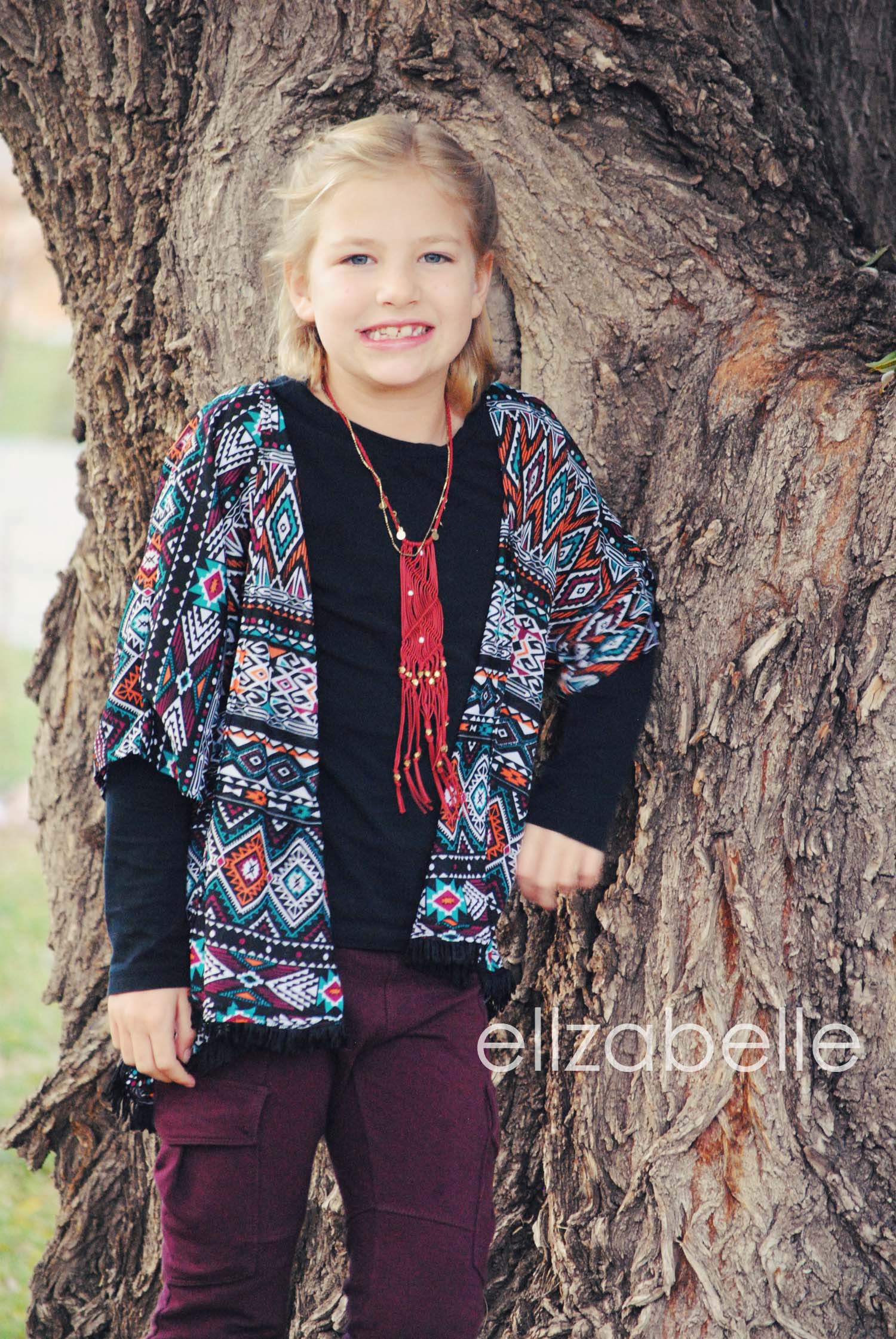 My daughter and I had a fun time taking pictures together and I can definitely see us having matching kimonos very soon! **(a big shout out to my husband for reluctantly taking our photos and doing a pretty good job! haha)** Until next time! Ellen