Today we are featuring the six new patterns from the Back to School Collection by Violette Field Threads. Our feature includes all of the patterns in the collection sewn by several of our team members showing off the many different styling options. These patterns have all the important looks including classic, retro and boho styles to complete any young back to schooler's fashion statement. Check back tomorrow to see how all the patterns can be used as a capsule wardrobe!
The Alexandra Dress sewn by Chris:
Hi readers, Chris here, excited to share my version of the Alexandra Dress and Top from Violette Field Threads' new Back to School Collection. Miss E just started first grade, and the classic look of the Alexandra dress is a perfect addition to her school wardrobe. I used broadcloth for the bodice and quilting cotton for the skirt and the resulting dress is light enough for the warmer fall weather now and will look adorable with tights and a cardigan later. I went with a plain version of the bodice, because honestly, I'm a frazzled teacher and mom without a lot of time. I still think the style with the curved collar and tie still shines in this solid bodice (though I do look forward to making the fancier version as well). I hope you love it, too!
The Hattie and Tess sewn by Rachel:
Hi there! When I saw the new VFT Back to School, I asked Miss P if she was interested in any of the patterns for back to school. She immediately picked Hattie - and I'll admit I was a little surprised since lately she hasn't been selecting either wovens OR collars! This look is one of my favorites, though, and I was happy to oblige. We picked a small pin dot quilting cotton for the bodice and Art Gallery floral denim (which is closer to chambray in weight, so it has a really nice drape) for the full skirt. For Tess (the knit cardigan), I used a lightweight cotton spandex french terry from Raspberry Creek fabrics in a pale oatmeal color. I lengthened the sleeves a bit so I could cuff them back and tack the cuffs in place for a slightly different look.
I love that the sleeveless view of the dress pairs so nicely with the cardigan so she can wear it no matter the weather. Hattie comes with two different cuffed sleeves (a short sleeve and an elbow length) but I knew Miss P wouldn't be comfortable with the cardigan layered over the sleeves so I stuck with the sleeveless for this one. I'm thinking one with elbow sleeves would be perfect for school picture day, though! I love the classic and timeless style of this dress, and the fit is spot on - I know that anything designed by our PR teammate Cassie will be just right for my newly minted second grader!
Until next time, Rachel
The Amelia and Presley sewn by Jackie:
Hey y'all, it's Jackie. The 20 year fashion cycle is bringing flowy tops and flared bottoms back on trend. My mom wore them in the 70's, I wore them in the 90's, and now it's Miss 9's turn. So let's talk about the Amelia and Presley patterns from VFT's new Retro Back To School Collection. The Amelia top is a cute knit top with belled sleeves, high-low hem, and a hem ruffle. There are other sleeve options, but we decided to "go big or go home." Despite her preference for pants over dresses, she's still pretty girly, so this top gives her just the right amount of ruffles and swish. This Girl Charlee floral was just perfect for a fall top. She loves how it swings as she dances around. The Presley flared pants are super cute in a brick red cotton blend from everyone's favorite bargain store, and perfectly pair with the Amelia top. In full disclosure, the first pair I made were too small. Apparently, Miss 9 had a growth spurt since I took her measurements in July. Fortunately, the fabric was reasonably priced so it didn't hurt my feeling too much to go back for more. I re-measured Miss 9, and we need to go up a full size. How does that happen!? I'm glad I tried again, because the end result is absolute retro perfection! She had fun busting a move and has declared that rgis will be her outfit for picture day. High praise indeed!
The Autumn and Alexandra sewn by Suzanne:
It was so much fun to switch gears and sew up some pretties for my girl from VFT. Sewing another designer's pattern is a little like going on vacation for me, a breath of fresh air! I picked the Autumn because I think the pinafore is adorable and a great layering piece, and fall in PA is all about layering. I did the pinafore and coordinating collar with a light bottom weight. Grey is my favorite neutral since you can pair it with any color under the sun - of course Mack picked pink, ha! This knit quatrefoil is from Girl Charlee... that's right, I said KNIT. I made the Alexandra top out of knit. This allowed me to eliminate the back buttons and give my girl a comfy top with an adorable collar. Now I will say that I wasn't fully thinking about the neck hole losing its stretch-ability with the woven collar. The neck opening is fairly generous, but my girl has a huge head - we got it on and off, but I'm going to add a small placket and ribbon in the back to make it easier for the future. So I mentioned the importance of layers before. In PA it can be 40 in the morning and almost 80 by afternoon, so add a cute sweater and tights and you are good to go for the day!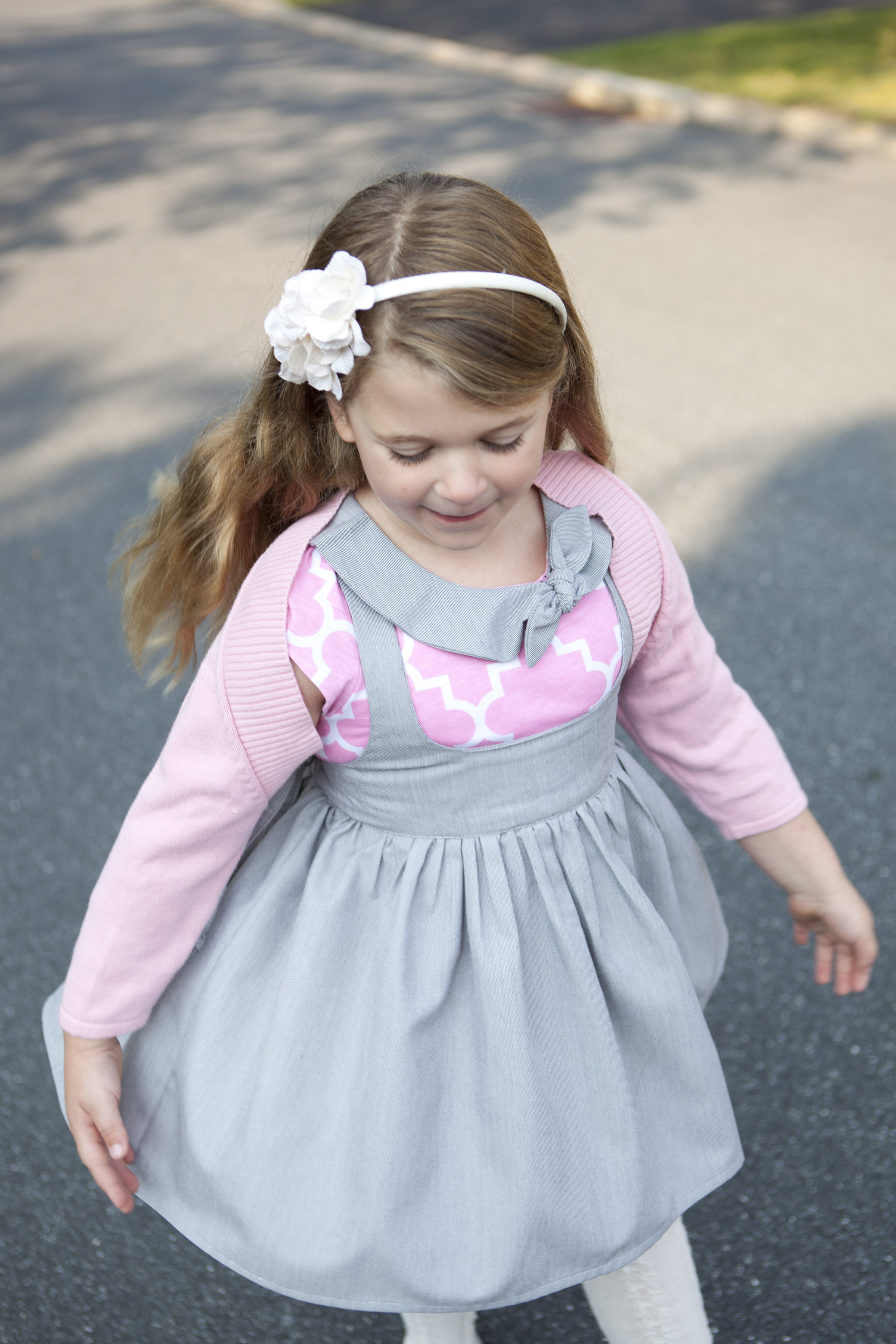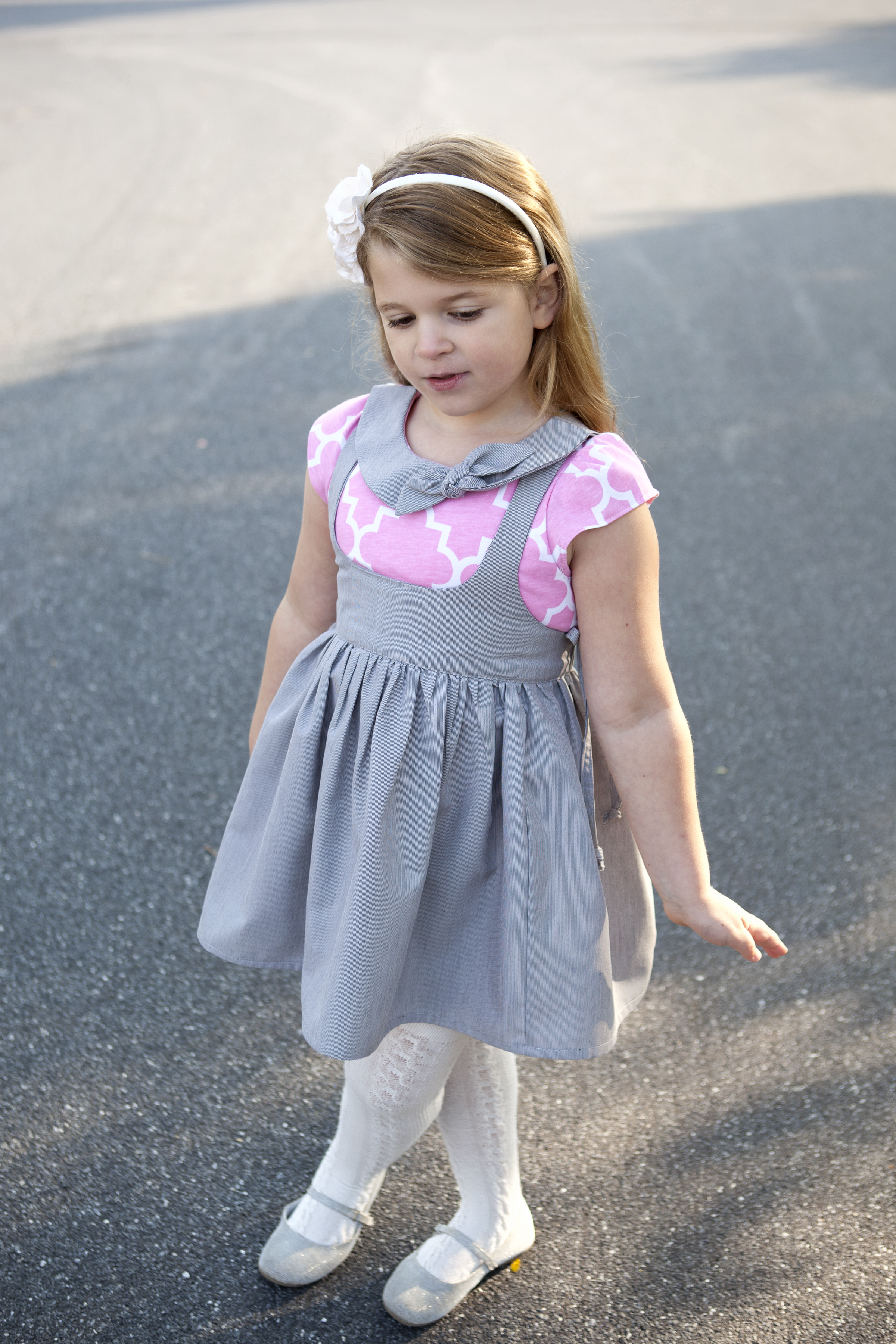 Alexandra sewn by Crystal: