A handful of your favorite Indie Designers has teamed up to share some of they're favorite patterns, swapping their own patterns and sewing them up for you.
To add some spice, a lot of them were so kind to offer you big discounts and a even bigger giveaway (just scroll down to find it!)
Throughout the week there will be great sales from many of the included designers!
Today you get to see swaps from: Anne, Heidi, Jenn, Nicole.
Hi Everyone! It's Anne from Sofilantjes Patterns.
I got to sew the Verona dress from Jennuine design and loved it. Great birtday dress for the little diva.
Come on over to my blog and see more pictures of the dress.
See you there.
This is Heidi, from Pollywoggles, and for this Designer Swap it is my pleasure to share with you all the Spirit Jacket I sewed up from Cole's Creations.
I thought it was about time I sewed up something for one of my boys, and I had the perfect motorcycle fleece just waiting in my stash. Nicole's instructions were clear and easy to follow and I love the pockets sewn into the front and the simplicity of the snap closure. My son loves the bike appliqued onto the back! Made with fleece, this jacket is exactly right for spring or fall, just cozy enough for cool days but still light and comfortable.
You can read more about the fun I had with this pattern on my facebook page today!
Hello! I'm Jenn and I design PDF patterns under my label
Jennuine Design
and I blog at
A Jennuine Life
.
We had so much fun with the last designer pattern swap we decided to do it again! I sewed the
Mainstreet Dress/Tee
from
Terra's Treasures
. I shopped my fabric stash and knew I wanted to use this great foxes Euro knit I've had for a while. It was only a fat half, so I had to get a little creative with the fabric, making the sleeves in a coordinate and piecing in a band at the hem for a nice tunic length. The pattern gives options for a shirt or dress length, and short or long sleeves.
The ruffles can be made out of woven, but I opted to make a single ruffle in knit and omit the ruffles at the hem of the dress since I already was color blocking.
The best part is that Hadley loves her new fox dress and doesn't want to take it off! Come on over and read more at
A Jennuine Life
!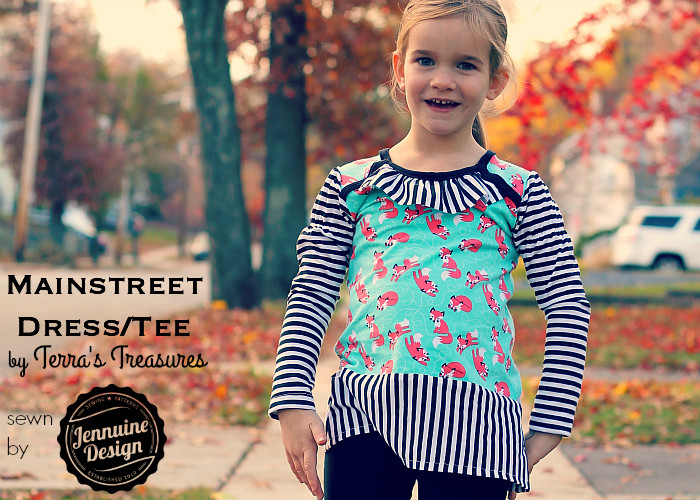 Hello!
Nicole here, part of the duo that makes up Cole's Corner and Creations Patterns.
I'm always so excited when we do the Designer Swap and this year, I chose to sneak in a little self care sewing with Mel's Extraordinary Girl for Women pattern.
It's the perfect fit for me, because it's made with knit fabrics for comfort and the design allows me to mix and match fabrics and prints and I love that!
Head over to my blog to hear more about the fabrics I used and to see a few more silly pictures of me (captured by my 10 year old daughter).