To see the intro to the Designer's Pattern Swap, and all the great sales going on, click HERE. Don't forget to enter the giveaway in the rafflecopter below.
Today on our Day Two of the Designer Pattern Swap we have Anne, Megan, Joelle, and Jen. Check out their awesome sews, and head over to their blogs to see even more details. Love some of the patterns - go to Monday's post and grab a sales code!
---------------------------
Hi All, Today it is my stop for the designers swap. Here is a little summary of the beautiful pattern I got to make. For the full post, come to www.sofilantjes.com The pattern that I got to sew is the Lily Lace dress from Made for Mermaids(all Lily Lace patterns (baby, girls, doll) are 25% off with the code lilylace (good 4/20-4/24 midnight cst) on www.madeformermaids.com only). This was my first time sewing one of her patterns and it was really fun. I used a dark blue woven fabric that I bought on sale. Yay for sales! I really love to use blue fabric for girly dresses (yes I do that a lot). So this fabric was perfect. And still girly because of the big flowers. The blue bias tape I already had in my stash from a previous project that I never finished, perfect. All I needed to find now was pretty lace. I wanted blue pre-cut lace that was hard to find but finally found the one I wanted in a dutch webshop. The width and color where perfect and I loved the flowers on this on.
After I had my materials it was cutting time. Printing and taping the bodice was a breeze. It all went together perfectly. The skirt part is a rectangle and measurements are in the instructions. This saves a lot of paper so we get to save another tree :-). The fabric I used is a 140 cm wide fabric, so by using the width of the fabric I got a beautiful full skirt. Really girly and twirly. Instructions in this pattern are very clear an I love the little bit of humor Megan (the designer) put in there. It made me smile.
Did you seen my baby girls personal touch to the dress? I think you can style any dress with rain boots don't you…….. And they even have little lights when she walks. Perfection. lol
Hi!! (waves) It's Megan from
Made for Mermaids
! I got to sew up the beautiful
Primrose Anne
dress by
Pollywoggles
. This was a new to me designer; I loved this pattern and how my dress turned out!
There is only 1 page to print, an arm hole cut out with all sizes 1-8 fit on 1 page and the rest is cut from a chart in the tutorial. This makes it much QUICKER and if you're like me, sewing during nap time, this is perfect! I love the straps on this sweet dress, they are really stunning and can be adjusted so many different ways for different looks. The elastic back, loops and adjustable straps make this a grow with me style, which I always love.
I also adore that this could be an everyday wear or special occasion dress, the double ruffle on the bottom make it the perfect twirly dress! Please head over to my
blog
to read more!
Hello! I'm Joelle, Kymy's assistant over at
Everything Your Mama Made & More (EYMM)
. I was excited for the chance to participate in the Designer Pattern Swap and had the joy of sewing up the Easy Peasy Crew and Board Shorties by A Sparkly Baby. I love me a good raglan shirt and this one is extra special (but not much harder to put together) because of the inset arm panels between the sleeves and body. I also love how the collar comes together as a vee in the front, but is as easy to insert as a regular neckband and there's no tricky corner to turn. The shorts are set apart by the curved seam in the front and back, which is fabulous for color blocking and looks so cute when worn! My boys are thrilled to have "matching" pajamas that are mama-made! Now my girls are begging for their own pairs, which I'm excited that I'll be able to do since the sizing goes up to 14. Head over and check out
my post
on the EYMM blog for more pictures and details!
---------------------------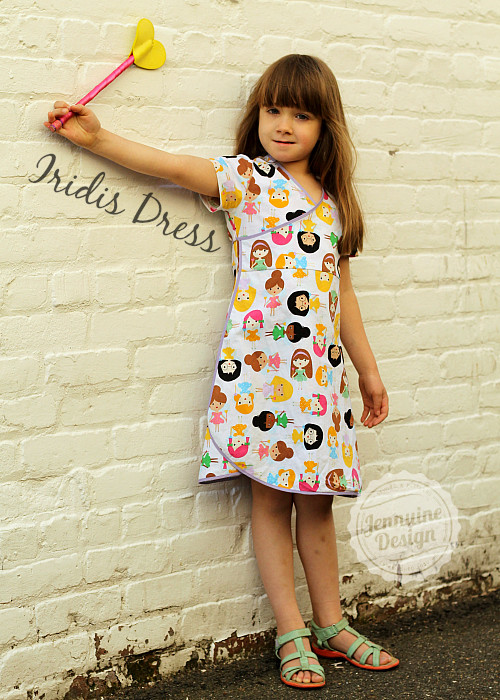 Hello! I'm Jenn and I design PDF patterns under my label
Jennuine Design
and I blog at
A Jennuine Life
. I had so much fun participating in this designer pattern swap. I sewed the
Iridis Dress
from
Sofilantjes
. I've had this adorable
Girlfriends
print by Ann Kelle for Robert Kaufman for only a short while and I knew it would be adorable for this sweet wrap dress. Due to the busy print of the scattered girls, I opted to make the skirts as solid pieces instead of the curved pieces in the pattern. I love the lines of this functional wrap dress, and the ingenious methods for securing the wrap. Come on over and read more at
A Jennuine Life
!