Skirts, Skirts, and more Skirts. Today we are taking a look at the many options and variations in the A-Line Yoga Skirt by Jocole. (You can read the review of the Women's sizing HERE).
If you are ready to jump back into sewing for the new year with something quick and easy on the brain, you need to move the A-line Yoga Skirt up to the top of your list.
Jocole is offering 25% off your entire order today through midnight 1/7/14 (EST) with the code: Patternrevolution. So grab it while the grabbing is good ;o)
Here are Kari and Crystal to show off their adorable creations....
This review was completed by a 3rd party objective reviewer who received a complimentary copy of the pattern in order to complete the review. Neither Pattern Revolution nor the reviewer received any additional compensation for this review
----------------------------------------------------
Jumpin' on the Jocole Bandwagon
A Review of Jocole's Girls Yoga A-Line Skirt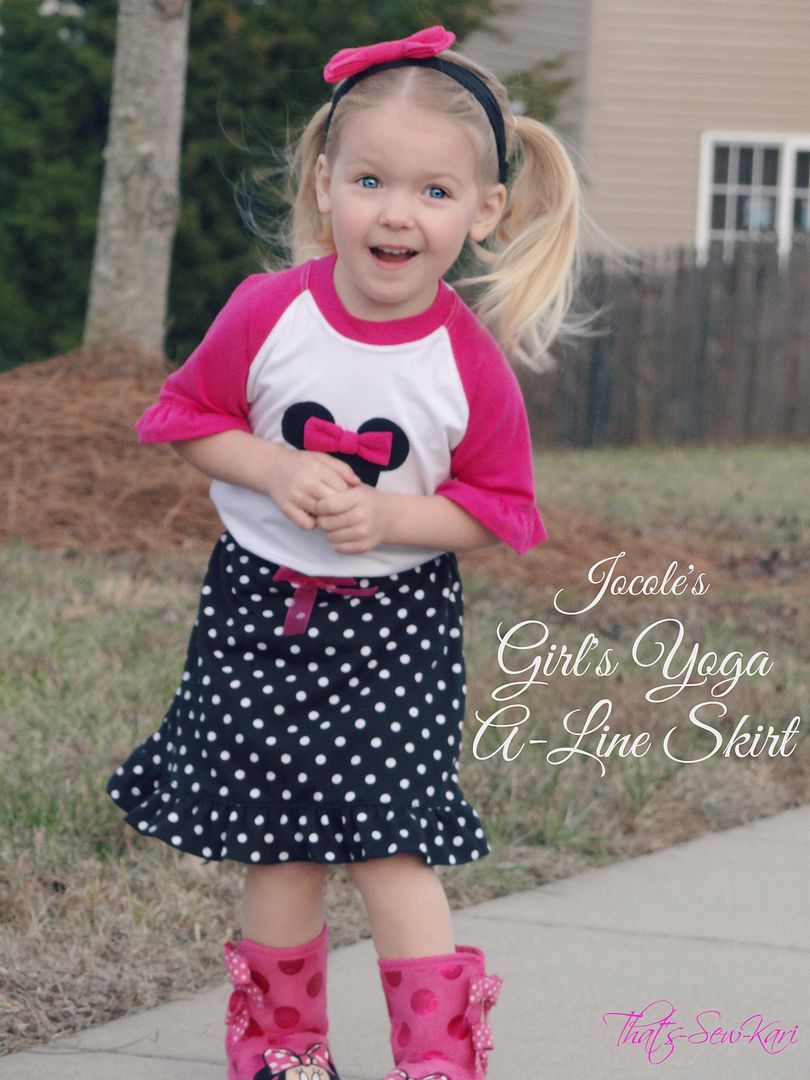 Hey, it's me again, Kari, popping over from
That's-Sew-Kari
. I've been busy, busy, busy -- sewing up a storm with pattern testing, customer orders, and making Christmas gifts -- that I haven't had much time to participate in many reviews here lately. I don't think a night goes by, though, that I don't fire up my sewing machine and serger.
I'm here today with a review of Jocole's Girls Yoga A-Line Skirt pattern. This pattern is an all-knit skirt with a cute a-line shape.
Sizes 18M - Girls 14, and 18" doll

Two Length options (knee and maxi)

4 Waistband options (3 knit: skinny, regular, and fold-over, or elastic waist)

Can be made plain or chevron using striped fabric

Links in pattern to make it a Hi-Lo Skirt or Skort

$8 - Purchase pattern HERE
Confession time: I've been wanting and meaning to try one of
Jocole
's patterns for a few months now. Yep, I'm a Jocole newbie. Wait, correction: I
was
a Jocole newbie.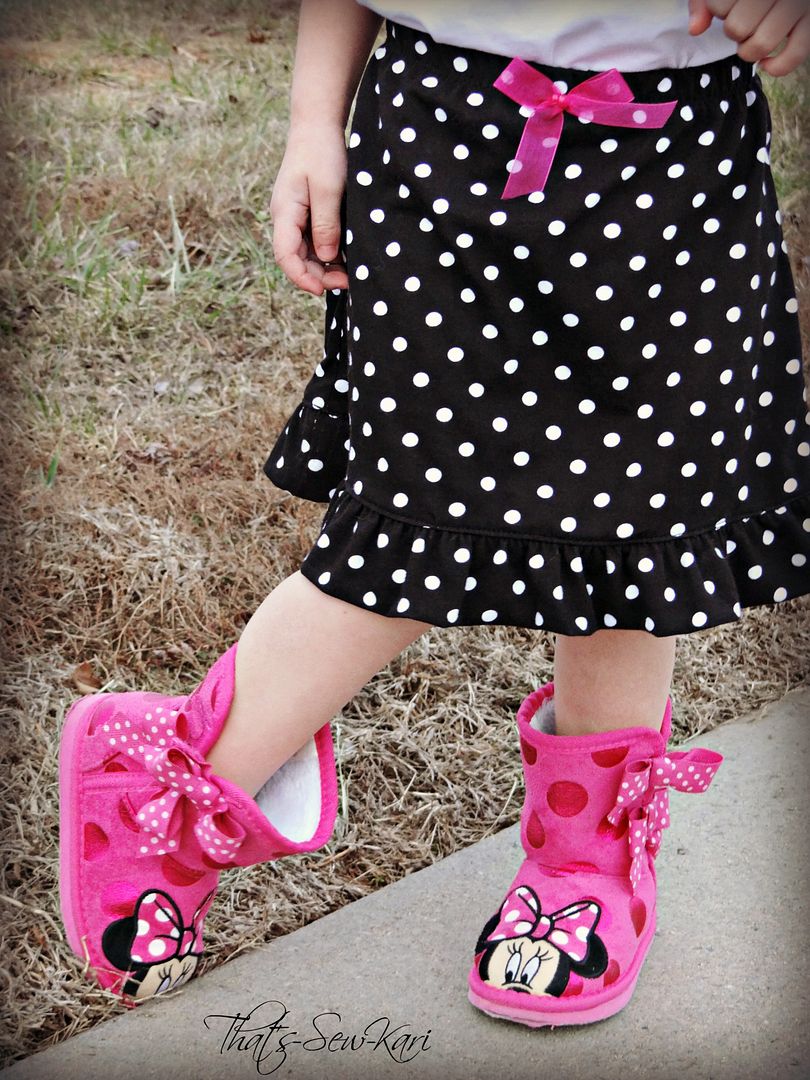 Close up
18M knee length with decorative bow and added ruffle hem
My 2 year old practically lives in skirts -- as in refuses pants -- so I knew I'd be making her the skirt for the review. I'll also admit I planned the entire outfit around her new Minnie Mouse boots. I can't be the only one that does that, right?? So I knew right away that I'd be planning the knee length. Next, I needed to determine what size I'd need. Easy enough, I opened up the pattern and consulted the Sizing Chart which includes child's waist measurement and finished lengths of the skirt (not including waist since there are several options). I determined, for my skinny gal, that the 18m would fit her great and the finished length was right in line with all of her store-bought skirts so I didn't need to cut at a longer size to accommodate for her non-18m height.
Perfect for traipsing through the pine needles
Here's an overview of what to expect from this pattern:
Measurement Chart to determine the best si
ze option
Yardage Chart and list of suggested fabrics (Stretch Gauge also included)
A Print Guide to print only what you need
A Test Square to make sure the pattern has printed at the correct size
Pattern Piece is nested and marked with the Designer, Pattern Name, Direction of Stretch, and a Stripe Guide to align your stripes to make your skirt in a chevron pattern. Both Seam Allowance and Hem Allowance are also notated
Cutting Chart for Waistband
Cutting Layout Guide for optional chevron skirt
Pattern pages that fit together seamlessly
Pages of Tips and Helpful Hints with Sewing Terminology
Step-by-Step Instructions with clear line drawings
Photo gallery to give you inspiration
Quick Guide for those who wish to print just the instructions without the added pictures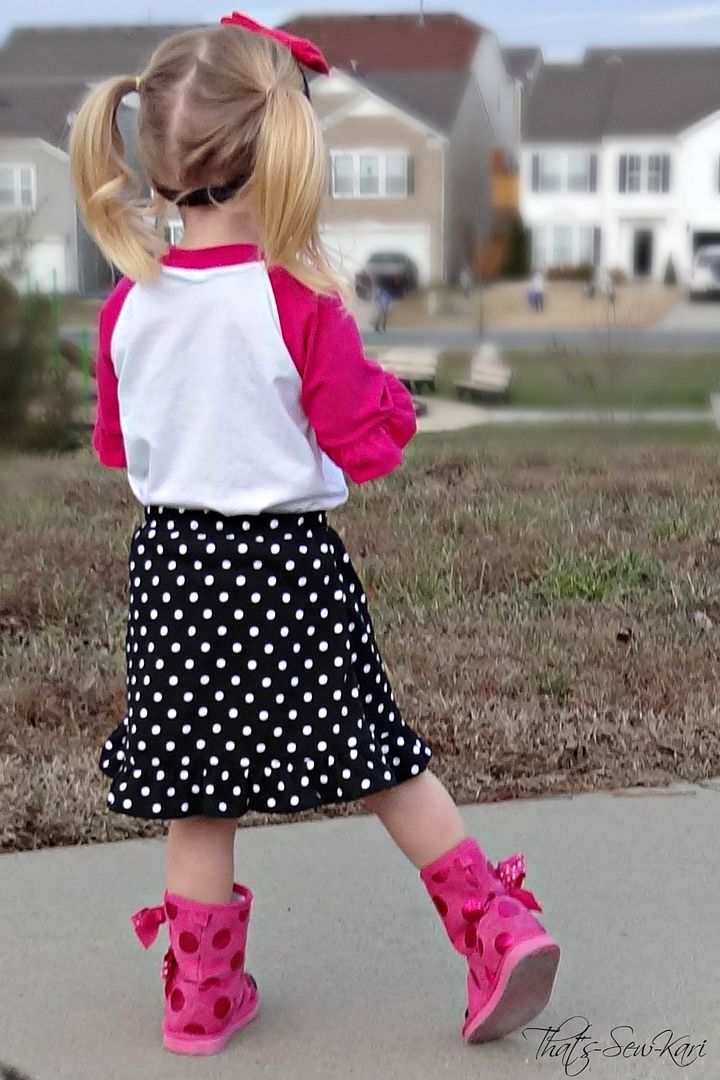 Backside
Sewing this skirt was super quick! It's just two side seams, a waist, and a hem. For my version, I decided to use the elastic waist option as it's easiest for me to sew it directly on with my serger. For the hem, I opted out of my normal traditional hem. I decided to add a ruffle... can you guess why?


Why did I add a ruffle instead of hemming my skirt?
A) My double needle was too dull and snagging my fabric
B) Without the added height for the waist, I second-guessed my decision of cutting at the 18M height (for my 36" 2.5 yr old)
C) I chickened out trying my coverstitch function on my serger and used the excuse of "no black serger thread" as the reason
D) Ruffles are cute
E) Hemming is for the birds
F) ALL OF THE ABOVE
Yep, the answer is F. It was a last minute decision and I really love it! To achieve the no-hem ruffle, measure the bottom width of your skirt, front and back. Double this amount to determine your length of fabric to cut (I was a few inches short so it's slightly less gathered, but you work with what you've got!). Example: If your skirt measures 20", cut a 40" strip of fabric. Figure out the height of your desired ruffle, then double it and add seam allowance. Sew short ends (RST) together and fold in half length-wise, wrong sides together. Gather the raw edges (I highly recommend Jocole's method of elastic gathering) until your ruffle matches the opening of the bottom of the skirt. Align raw edges, sew, flip down, and topstitch in place.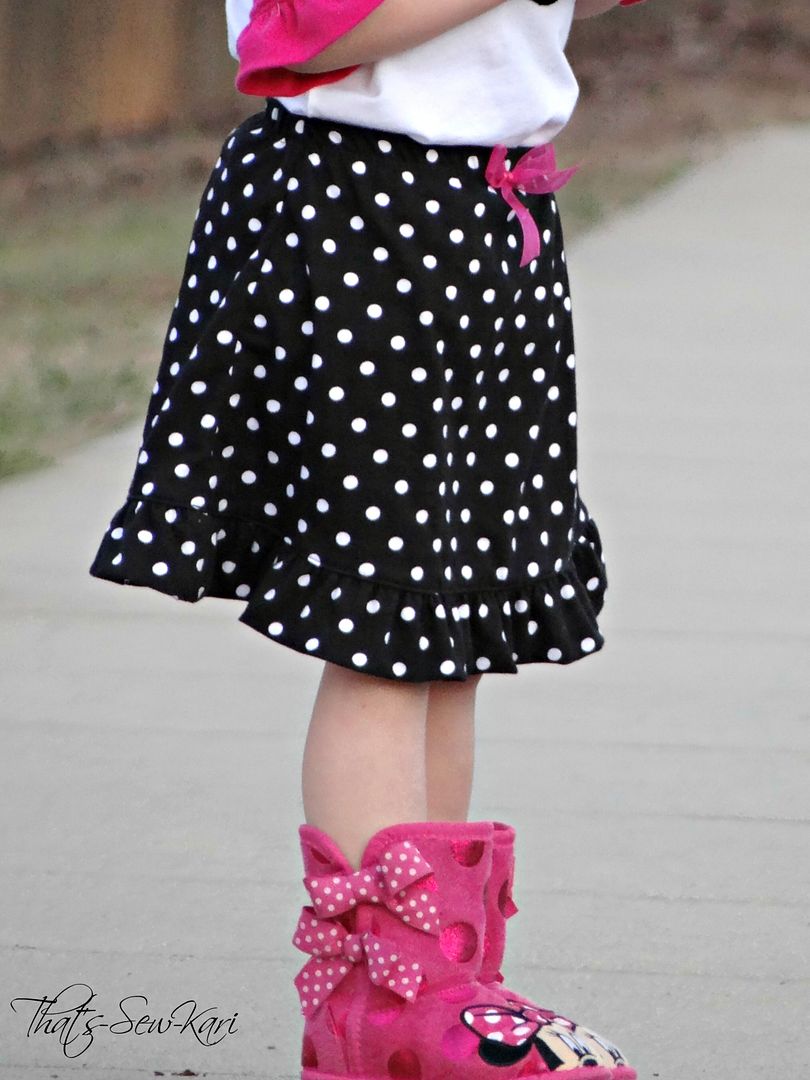 Side view: Cloth diaper underneath
In summary, I'm so glad I had the opportunity to try this pattern. It's a well-written pattern with a beginner in mind to ease them into the world of knit. It's a fast sew and the fit is great! For all you cloth diapering moms, the fit is great over a cloth bum too!
Thanks, Jocole -- you've got a new fan!! Er, 3 new fans!! Here's one of your excited new fans --
So much joy packed into this petite little girl!
Three cheers for Jocole!
-------------------------------
Hey there! I'm Crystal from
Stitched by Crystal
, here to share my review of the
Jocole girls A-line Yoga Skirt
with you!
This adorable little skirt is a super quick sew, and I am not talking like a nap time quick, I am talking like you are leaving the house in 20 minutes and your daughter has "nothing to wear" quick! It is designed for knit fabrics, it has two different lengths (knee length and maxi), and it also has a chevron style option if you are using a striped knit. Plus there is a free tutorial to make a hi-lo hemline and it can be combined with ruffle leggings to create a skort. So many options from one simple pattern!
I chose the knee length for my 18 month old and used some interlock knit I had in my stash for the skirt. This skirt in smaller sizes can be made with very little fabric, I think I will be going through my knit scraps and making her more skirts! The waistband needs to be made from a really stretchy knit (there is even a chart in the pattern to determine if your knit is stretchy enough) so I used a super stretchy black knit I had for a contrasting waist band. There are three waist band widths, skinny, regular, and fold over, and there is also an option for an elastic waistband
Here is some of the awesome stuff about this pattern:
Super quick sew! I had mine done in under 30 minutes.
Lots of size options. The girls pattern includes sizes 18 months to size 14 and also has an 18" doll pattern, then there is a women's pattern for XS-XXXL.
Two length options, maxi and knee length. Three waistband widths and an optional elastic waistband.
There are options for a full A line skirt and for a slimmer cut skirt.
There are tons of helpful tips for sewing with knits.
There are no pictures, but really great diagrams for each step.
The pattern has a size chart to help you choose which size to make.
There is a yardage chart so you know how much fabric to buy.
Only one pattern piece! There is a second rectangle piece and a chart for the measurements of that.
Lots of really great photos of the finished skirt for inspiration.
This is a pattern that even someone with beginner skills would have no trouble completing.
The only con I found was that it runs a bit big. The waist measurement of the 18 month size is over 3" bigger than the waist measurement of my 18 month old girl. But, there is a very detailed size chart so make sure you measure your kid and check the chart for the appropriate size before you sew.


I just love how this skirt turned out and I know this is a pattern I will get a lot of use out of! It looks so cute paired with a t-shirt for warmer months and would be adorable with tights and boots in the winter. It can be dressed up or down, and being made of comfy knit, it can even be used for playtime.