Hello World... today I am here to share with you the wondrous world of leggings....for BOYS!!!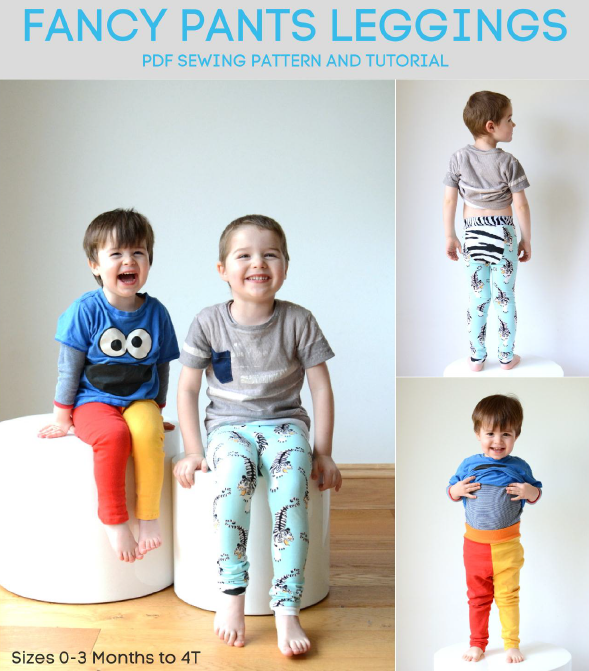 Pattern by Titchy Threads, available HERE
Now I have to admit, when this pattern first showed up in my inbox to write a review for, my brain immediately said - oh, I'll make something for baby girl. I mean leggings are for girls, right? And baby girl goes through them sooooo fast, why not whip her up more? But then I thought, and I looked at those happy smiling face of little boys on the cover of the pattern.... and I said to myself 'No, Self, you will make something for the boys!'
I was super excited to then read through the pattern and realize that there was a shorts option. My boys have no PJ shorts and summer is COMING (much more scary in my house than 'Winter is Coming'). Oh, and my boys, they have to have some form of pants on when they sleep or who knows where the diaper will be come morning - just sayin.
As I looked over the pattern pieces it occurred to me that this was the perfect upcycling pattern - if for nothing else, the little bum section where you can show off something wild, crazy, and fun! I've been holding onto some of the kid's onesies in hopes of finding a way to use them in the future - and my friends, that time is NOW!
I dug through my stash and within a nap time had whipped up these.
And the boys got to wear them to bed THAT NIGHT!
I think they like them ;o) To me the fit of the shorts version is almost like a pair of boxer briefs, they were super comfy on the boys!
I am so happy the Fancy Pants Leggings pattern showed up in my inbox!!!
And don't worry, baby girl wasn't left out!
Laura of Titchy Threads has done an amazing job with her debut pattern - yep, this is her first one! Not only is the pattern digitized beautifully with easy to follow dashed/dotted lines for cutting (those of us with B&W printers love that), she has made sure to arrange the pieces so you are printing as few pages as possible. If you have never sewn with knits before - THIS IS THE PATTERN FOR YOU!!! Laura includes so many great tips for sewing with knits at the beginning of her instructions - that you will be confidently off and running in no time. The only downfall of this pattern is that it stops at a size 4 - I have a feeling I'll be making leggings long past size four in this household ;o)