Is it HOT where you are?!?!? Well it is here, I am not a huge fan of the heat, BUT I do love all the adorable summer clothes for kids!!!! Brace yourselves for another adorable short pattern by none other than Brownie Goose. These feature bias trim, rear faux pocket flaps, and the option of a flat front or full elastic waistband. This pattern just released TODAY, and you have a chance to WIN a pair for yourself!!!
This review was completed by a 3rd party objective reviewer who received a complimentary copy of the pattern in order to complete the review. Neither Pattern Revolution nor the reviewer received any additional compensation for this review.
Now take it away Kari with your review....
----------------------------------------------
Hi everyone, I'm Kari, from
That's-Sew-Kari. I love being a stay-at-home mom to my two cutie-pie daughters.
After my girls go to bed, you can usually find me at my sewing machine.
I used to sew Barbie clothes and scrunchies back when I was around 10 (yikes, that was forever ago!).
Last September, I bought myself a sewing machine and dove in.
I discovered the world of PDF patterns in April and my sewing has entered a whole new dimension! Enough about me though, you're here for the shorts!
My 2 year old diva rocking her new Seaside Shorts
I recently had the privilege of testing a new shorts pattern, called the Seaside Short for Brownie-Goose. I already owned the Summer Sailor Shorts by Brownie-Goose
(and a few more...LOL)
and love them . I'm here to tell you, I love the Seaside Shorts just as much! The Seaside Short is a cute little pair of shorts encased in bias trim with lots of buttons and faux back pockets. The size range is great
–
it goes from the itty bitty 6-12mo size all the way up to a 10/12!
When I was asked if I'd review this pattern for Pattern Revolution, I jumped at the chance. I love this pattern and now I get to share with all of you
…
so let's get started!
All of the Brownie-Goose patterns come to you in 2 separate PDFs. I love this as I don't have to figure out which pages to print to just get the pattern. The pattern pages are just 8 pages and color-coordinated by size. The pattern pieces are well marked, lined up perfectly and include grain lines! The instruction file takes you step-by-step with great photos and the famous Brownie-Goose humor. Seriously, it's like Amy, the girl behind BG is sitting next to and you're her BFF.
I think she just spotted Amy Norris across the park!
I don't know if it's just me, but trying to decide my fabric choices is always one of the hardest decisions and one of the longest parts of my sewing process. I always want to get it just right. And because I had to narrow it down to just one pair due to time constraints, I chose a red and aqua combo because it just screams summery fun to me.
2 year old require ballerina breaks
Did I mention this pattern teaches you how to make your own bias tape? Yep, it sure does and I had been doing it all wrong! I originally set out to use my own "made by me" bias tape and it's actually all cut. However, I discovered my printed fabric
wasn't
perfectly printed on the diagonal like I thought so it totally screwed up my look I was trying to achieve. Wonky print would have driven me nuts so I used pre-made bias which still looked perfectly cute. Although I prefer the traditional way of sewing on bias, this pattern teaches you a "cheater" method to make the shorts construction even faster!
Side view
Speaking of time, these shorts are a fast sew. Cutting and everything, you're looking at a couple hours, TOPS (especially if your fabric is all picked out!).
Okay, let's talk about fit. I made the size 2 for my cloth diaper wearing toddler. The fit was a bit snug for my liking in the fluffy bum area, whereas the Summer Sailors had fit fine over a cloth bum in the same size. For picture purposes, I used a regular disposable diaper and the fit was perfect. So if you're a cloth-diapering mom, I'd size up.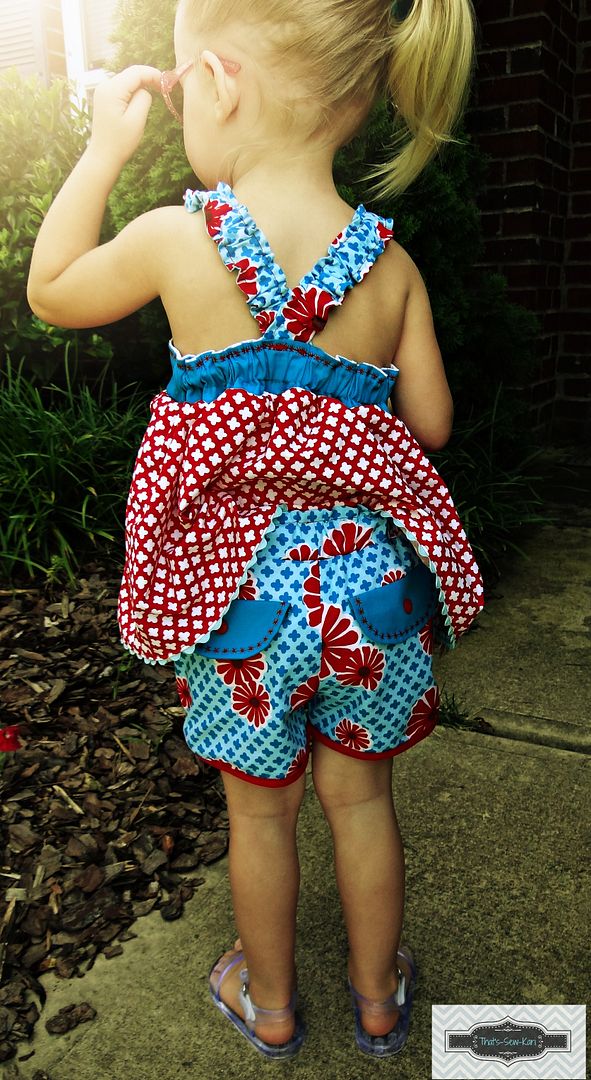 Rear view, regular diaper
All in all, this pattern is going to be another success for Brownie-Goose! I just know it. I love everything about it
–
the bias trim, the buttons, and my favorite part
–
the faux pockets in the rear. With different fabric combos, bias and button choices, you will truly create one-of-a-kind pair of shorts for your kids.
Love these pockets!!
Oh, and if you haven't seen, my sister-in-law, Emily made some awesome Superman Seaside Shorts for my nephews. Seriously cool.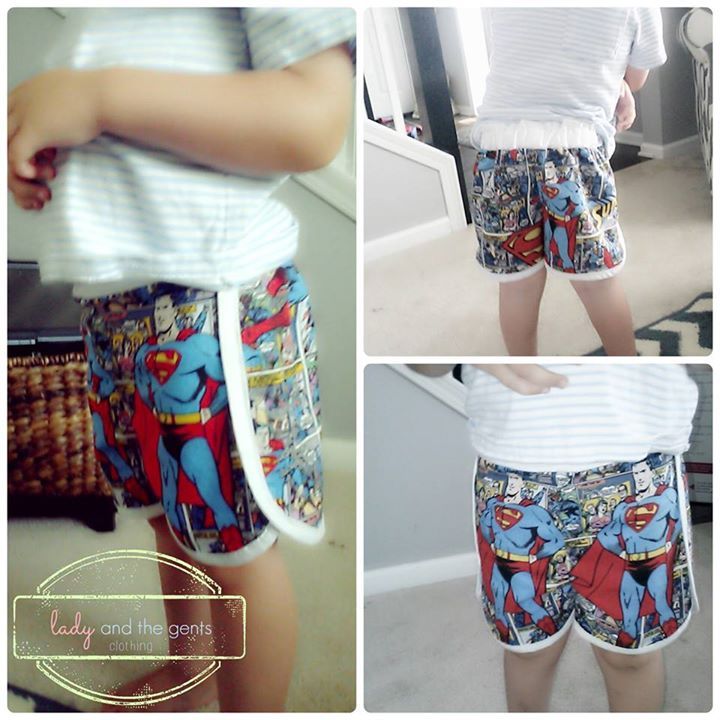 Photo and Creation by Emily Steiger
If you haven't had a chance to try a Brownie-Goose pattern, what are you waiting for?! I have several of BG patterns and of course, many more on my wish list. Head on over to the Brownie-Goose Etsy shop and pick it up (and a few more while you're there! I mean, who can resist?) This is a perfect pattern to get you started!
Thanks to Pattern Revolution for inviting me to review the Seaside Short by Brownie-Goose. And of course, a special thanks to Brownie-Goose
–
you were my first PDF pattern purchase and always continue to win my heart over. And testing a new pattern for you was just icing on the cake.
Yahoooooos!! A new Brownie-Goose pattern!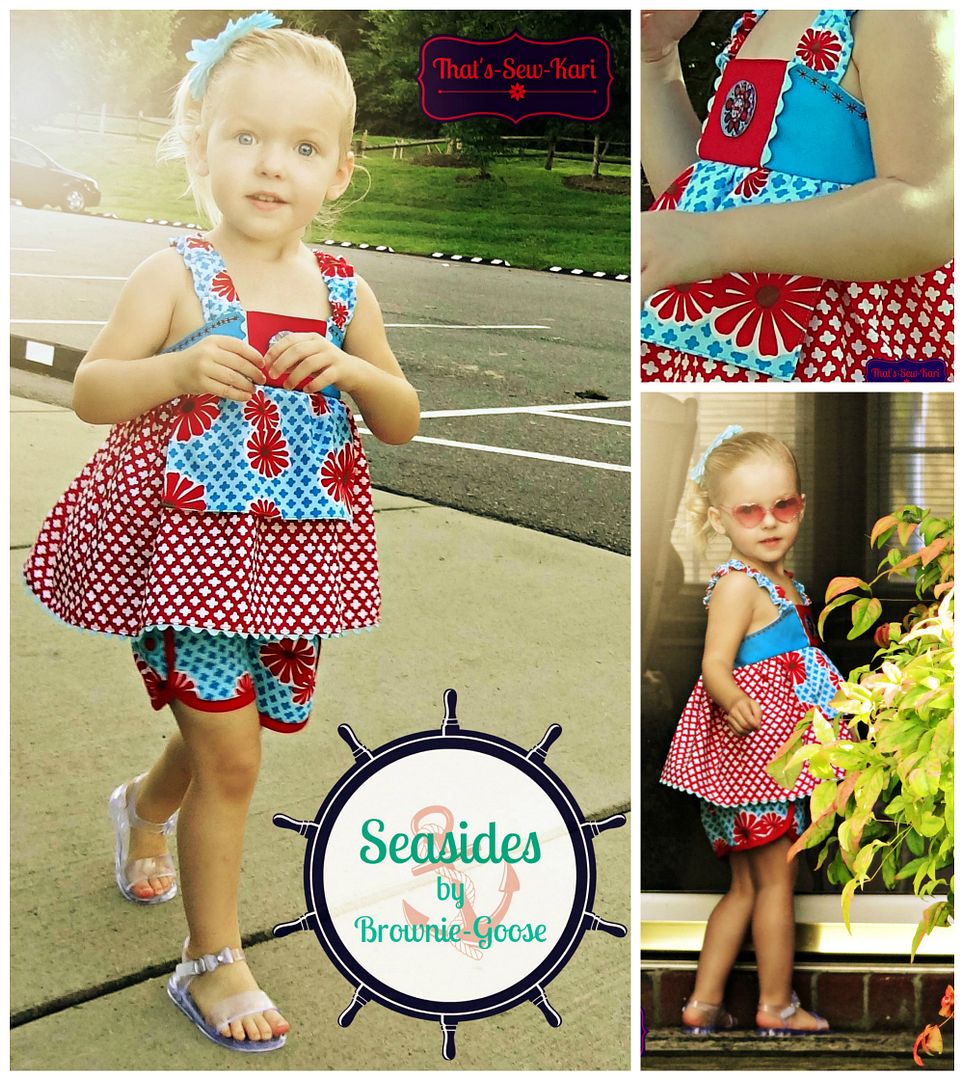 I've paired the Seaside Shorts with the Brownie Goose Katie Top
with modified straps so my VERY independent 2 year old can
dress and undress herself without issue.
---------------------------------------------------------------
Now enter the giveaway to win your own copy!!!! Or if you can't wait, just head on over HERE to buy them NOW!!!!