Cute and comfy tops are always in need around my house, it just seems like you never have quite enough. Today we are looking at the Carlie's Dolman Top by our affiliate Everything Your Mama Made. This easy knit pattern covers child and tween sizes and will soon be released in womens sizes (the Kymy Dolman Top). Kymy is offering two of our readers the chance to win BOTH size sets, so make sure you enter to win below!!!
This review was completed by a 3rd party objective reviewer who received a complimentary copy of the pattern in order to complete the review. Neither Pattern Revolution nor the reviewer received any additional compensation for this review.
Today I am sharing two reviews with you, one of the child's sizing and one of the tween sizing (which also fits small women since it has a loose fit and goes up to a tween 20). So here are Kari and Kara to share their thoughts with you!
------------------------------------
Hi everyone, I
'
m Kari, from
That's-Sew-Kari
. I love being a stay-at-home mom to my two cutie-pie daughters.
After my girls are asleep, you can usually find me at my sewing machine.
Last September, I bought myself a sewing machine and dove in.
I discovered the world of PDF patterns in April and my sewing has entered a whole new dimension!
I'm here today with a review of Carlie's Dolman Top by Everything Your Mama Made & More. This is the first pattern I have used by Everything Your Mama Made & More. I love having the chance to try new designers.
This pattern is for a dolman-style top (loose around the arm area, fitted at the waist) and is exclusively for knit. The size ranges from 12 months all the way up to 20 teen/tween. The pattern also contains 4 different styles for the waist finish
–
hi/lo, normal, banded, and crop.
Now, you might say, KNIT? I'm scared of knit! BUT, even though, I consider myself slowly stepping away from my "knit
–
newbie" status (I can still count my knit projects on one hand), this is a great beginner's knit pattern.
Because the pattern contains 4 options, there are several pages of pattern pieces
–
all sizes are color-coded and nested by hem type with seam allowances included in the pattern. In the tutorial, a guide is listed with page numbers needed to get just your style as well as how to lay out the pages. The pages do require a bit of trimming before taping together. I think I took almost as much time putting my pattern together as I did to sew.
I decided to make my 2 yr old a shirt using matching knit to a different shirt I had made my 4 yr old. I checked the measurement guide and she matched the 2t measurements perfectly. I *almost* made myself a shirt for this review. Since the pattern goes up to a 20 teen, I fit within the measurement guides. But Little Sis needed a new shirt and my fabric wasn't prewashed yet.
Anyway, I made View B which is the normal hem.
Sometimes, you just gotta get funky.
This shirt sews up so fast. I had the inside seams done in 5 minutes. Seriously. The most challenging part of sewing it up for me was hemming it. I used my double needle for the first time on knit and I made a couple of mistakes on the hem so I had to go back and fix them. It was still under an hour
–
with some little girl interruptions and visits with my friend, the seam ripper.
After I was done, I tried it on my 2 year old. It seemed a bit big in my opinion
–
fairly loose fitting and slipping off of one shoulder. Although, I think the style is to be a looser fit. Now, it's not a total loss because a) it still looks cute b) she'll grow into it and c) Big Sis (4) fits it perfectly.
Here's the size 2t on both my 4 yr old and 2 yr old, respectively.
The tutorial is very helpful with clear pictures and lots of hints to make it as easy as possible to sew, especially if you're new to knit. I learned a few helpful tips myself
–
iron the hems in before you start sewing and when ironing a curve, pull the knit slightly to reduce rippling. The tutorial even walks you through lengthening it, shortening it, or slimming down to get a customized fit. If my 4 yr old
didn't
fit it so well, I'd probably go back and slim it down a bit for my 2 yr old. But, I like things a bit more fitted.
To sum up, this is a fast, easy sew even for beginners. You can use whatever knit you have on hand
–
old t-shirts would be great for beginners to practice sewing with knit. The pattern pieces are nested, in color, by finish type and the tutorial clearly labels which pages to print. Seam allowances have already been included in the pattern pieces so no additional math is needed. The tutorial is clear and concise. Overall, I'm happy with the shirt I made and my girls love it too! I'll have to make another so they don't fight over it




To purchase this pattern, you can find it in Everything Your Mama Made & More's Craftsy Shop. There you can also find reviews and photos of finished products. After you finish your tops, don't forget to upload your pictures and review!



Perfect pairing with jeans - definitely
a comfortable shirt for school!
Back view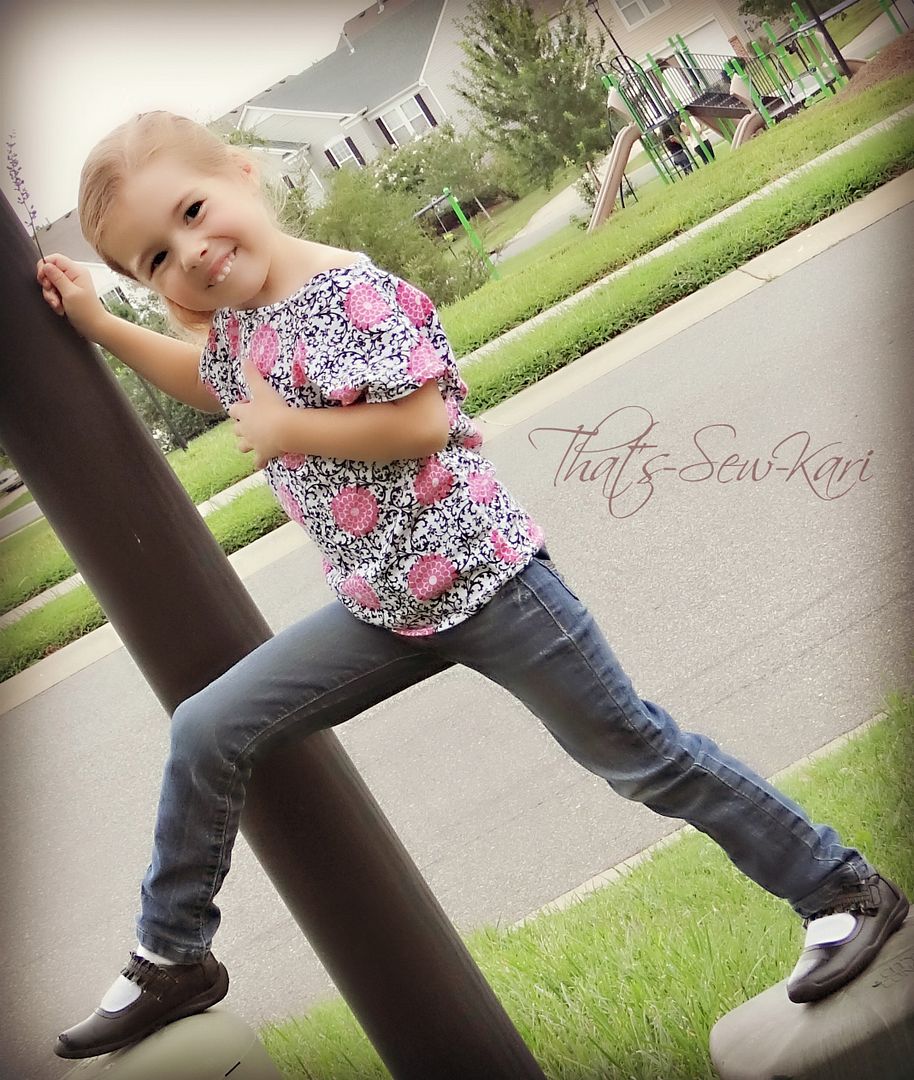 My 4 yr old had lots of fun getting her picture taken
today - she was all smiles in her new shirt!
----------------------------------------------
Carlie's Dolman Top
by Everything Your Momma Made
Review by Kara
Hi everyone! I'm Kara and I blog here.
I get to talk about Carlie's Dolman Top by Everything Your Momma Made today! I've been sewing for close to 20 years and have recently opened up my own shop on Facebook here.
I have 3 cute kids and a super sweet husband. Well, enough about me, here we go....
Carlie's Dolman Top is such a versatile pattern! I love that I can make one for my youngest DD (3yrs old), my teen, and myself! You can't get any better than that. There are 4 versions to this pattern, below you will see two of the versions. Here is the hi/lo in a fun mustache print for my teen.
The fit on this pattern is really great. I took her measurements and made the size according to the size chart. It took me about 30 minutes to make the top. I was so excited that it only took 30 minutes that I had to make one for myself! I love selfish sewing (pictures of me below).
The Dolman Top is modest enough for this to be worn every day! Wear it to school, play or even dress it up with a skirt.
The instructions are very clear and easy to follow. This is absolutely a beginner pattern but it does require knit fabric. As long as you are familiar with sewing with knit, it is a breeze!
Here is sassy pants giving some attitude! lol! The pieces to the pattern lined up very well and are computer drafted. There is a sizing chart with finished measurements to help with sizing.
Here I am in the largest teen size. This version has the bottom band and is more loose and flowy(is that a word???). I could have gone down a size but I wasn't sure how it would fit. I should have followed the sizing instructions!
I can't wait to make more of these for myself and my girls. I think this version and fabric make the top look more dressy. I used a cotton knit to make both versions of the top.
I really like this pattern and highly recommend it! I ordered my knit from Girl Charlee and love the fabrics they offer! The variety is out of this world.
Here I am fixing my youngest daughter's hair for church. She wasn't very excited about the whole thing, I'm not sure I'm very happy at the moment either!
XOXO,
------------------------------
I can't wait to make one of these myself - for MYSELF!!! Here are some images of the soon to be released Kymy's Dolman Top (XS-5X). And remember that by entering below to win you will win both the Carlie and the Kymy!!!