Today we are sharing a fun and easy to adapt skirt for women from Footloose and Fancy Free: The Sew Flirty2 Skirt. With Valentine's day right around the corner, this is the perfect date night skirt to whip up in no time at all. You could also wear it for work, church, or even just running around with your kids once the weather warms up (I'd pair it with tights and tall boots if you are in the line of the latest NorEaster to develop - brrrrrrr).
Here is Kari from That's Sew Kari to share her review and modifications of the Sew Flirty....
--------------------------------------
Get Flirty and Sew Yourself Some Love!
A Review of 'Sew Flirty 2' by Foot Loose and Fancy Free
and Modification Tutorials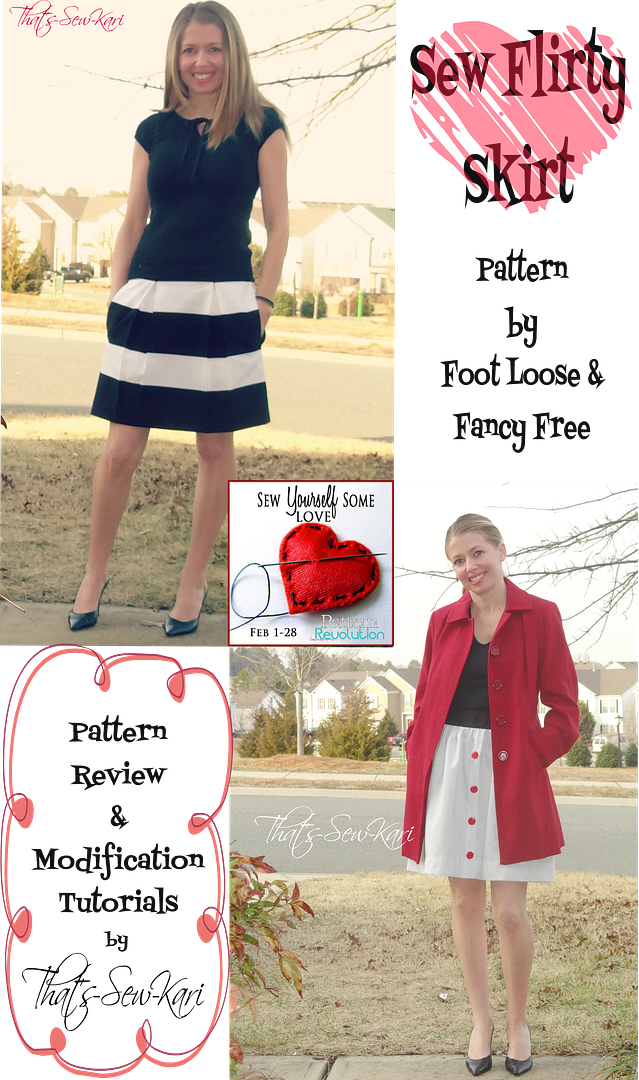 Hey there! I'm Kari, from
That's-Sew-Kari
. I am stay-at-home-mom to my two little girls. While I spend my days playing tea parties and princesses, I spend my evenings in front of my sewing machine. Sewing is actually a recent hobby of mine, but it quickly became evident that it's my passion.
If you are anything like me, your kids come first -- even in sewing. I am SO guilty of this! I sew so many clothes for my two girls that I often forget about myself. One of my very first projects was a purse for myself and after that, I was long forgotten. Until now...
I was excited to hear about the "Sew Yourself Some Love" series here on Pattern Revolution. Before signing up for this series, I could count on one hand the number of items I had made for myself. I thought this series would be perfect to help motivate me to spend some of my sewing time on just me -- some self-care in my busy sewing schedule.
In perusing ladies' patterns for inspiration, I came across
Foot Loose & Fancy Free
and saw "Sew Flirty 2" -- an easy, yet very cute skirt with exposed elastic at the waist. With spring and summer quickly approaching (hopefully, right?!), I need some new things to wear. I love being able to pop on a skirt and a tank top -- cute, yet comfortable and be on my way outside! This pattern looked perfect for what I'll need. I had not yet tried any patterns by this designer so I was curious of how I would like the pattern, the tutorial style, and the finished results. Today, I'm going to share my review of the pattern and how to recreate my two Sew Flirty skirts with you.
First impressions:
Tutorial is well organized and easy to read
Clear pictures, numbered to match the instructions
Includes great sewing tips, like squaring up your fabric!
No pattern pieces to print (my printer is thankful for the break!)
Bonus flower pattern/instructions provided
Suitable for any sewing level
QUICK and EASY!!!
Sew Flirty 2 comes in misses sizes XXS - XL and has two different versions. There is a fuller skirt option for 60" wide fabric - such as polyester, knit or rayon. The slimmer skirt is for 42 -44" wide fabric - woven cotton, wool or flannel. For most versions, you can make this skirt in under 3/4 yd! For the woven version (42-44" wide fabric), sizes M-XL will need 1 1/4 yds.
Each size lists the length of elastic (3" width is recommended, but I had 2" on hand and never did find 3" locally) as well as the measurements for your skirt panels. I feel this makes it easy to mix and match sizes. For example. I am fairly extremely short! At 5'1", I like my skirts to hit me right above my knee. So I used my waist measurement and figured out which elastic length would be most comfortable and then chose my skirt length.
So, how did they sew up?? Well, if you have followed any of my other projects, you know by now, that I simply cannot resist putting my spin on things. You didn't expect anything less this time around, right?! I decided I would make two versions -- "Little Flirt" and "Mega Flirt".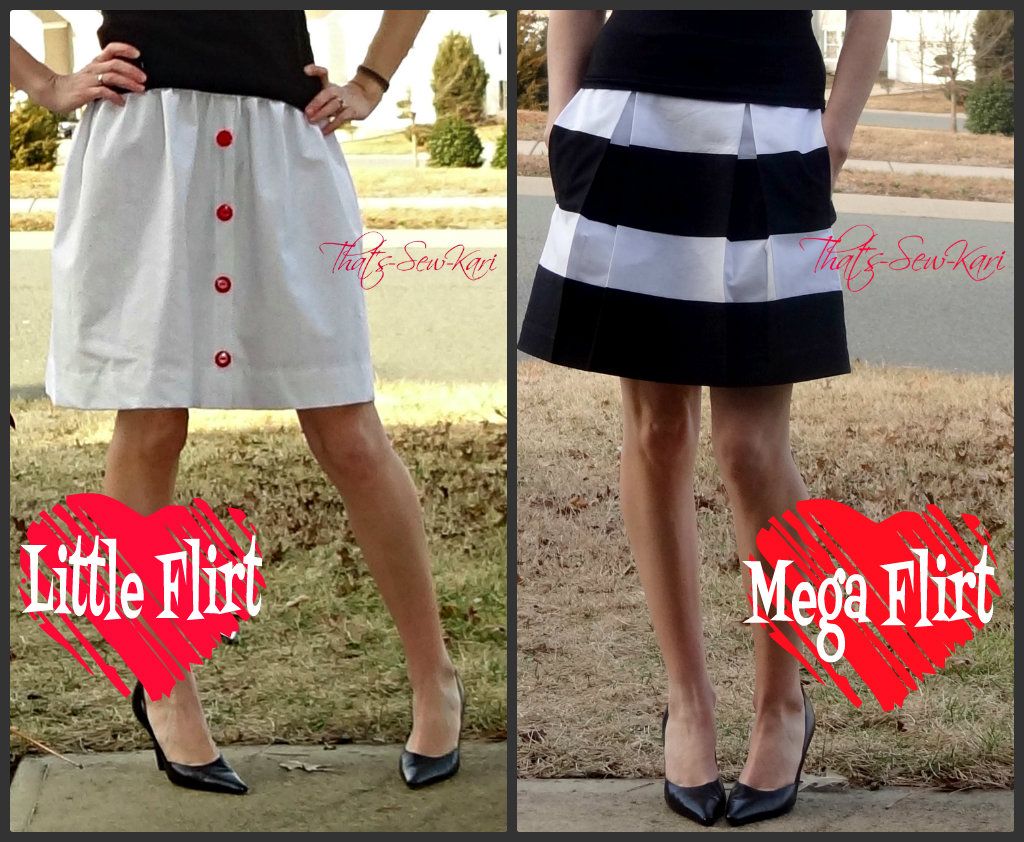 My "Little Flirt" idea came to me as I was hemming my "Mega Flirt". I had a lightweight woven cotton that I had enough yardage that I could get 60" for my width. I really wanted to see how I liked the fuller skirt version. Because the skirt is made from just one piece of fabric, there is just one seam. I thought it would be fun if I flipped that seam to the front, made it a faux placket and added buttons for interest. From first cut to last button sewn, I think it was under 30 minutes. And of course, that includes checking on my girls throughout.
Here's how you modify it:
Cut materials -- fabric and elastic (I used the fuller version cut).
Hem both short sides of the skirt at 1".
Overlap the hems -- remember overlap right over left to match couture etiquette.
Sew close to the edge of the hem that is on top. You should now have two vertical lines of stitching down the front of your skirt, nearly an inch apart.

Close up of placket detail

Sew your elastic into a tube (this deviates from the tutorial as I didn't want a raw edge of elastic exposed since I was overlapping the seams), open the seam, and zig-zag the seam flaps down.
Mark both skirt and elastic into eighths, as recommended in the pattern.
Match the marks on both the elastic and skirt and attach (tips included in pattern)
Hem your skirt - pattern recommends blind hem or hem by hand. I tried blind hem on the "Mega Flirt" and failed miserably. So I just gave it a normal hem ;)
Add your buttons. My original idea was tiny black buttons, but then I saw these oversized red buttons and had just enough!
All done!! Enjoy your new skirt!!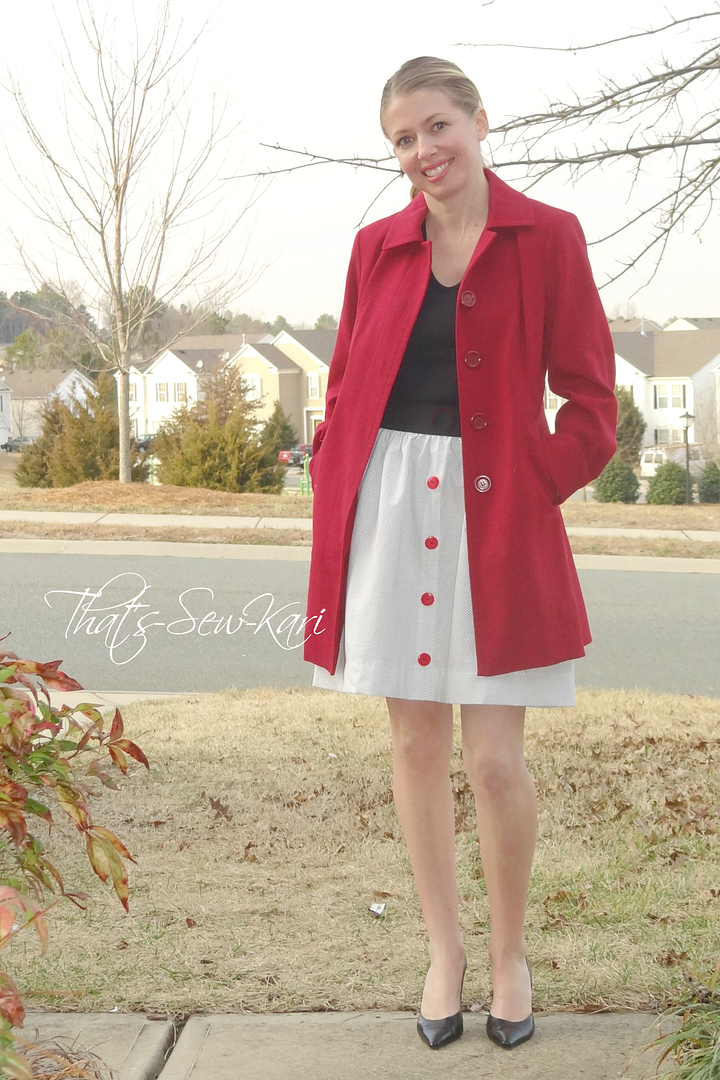 I just happened to have this red coat in my closet!
My "Mega Flirt" version takes more effort, but I LOVE how it turned out -- cute and stylish, but very classic, and also popular on Pinterest. I decided I really wanted that striped skirt I saw on Pinterest and it's so hard to find really wide-striped fabric. In fact, it's much easier just to make your own. I also wanted pockets -- just because I wanted to try them...LOL. While I was getting ready to attach my elastic, another idea popped into my head -- box pleats on the front.
This skirt, obviously took me much longer than my other "quickie" version. Sometimes, though, you need to sew yourself a lot of love.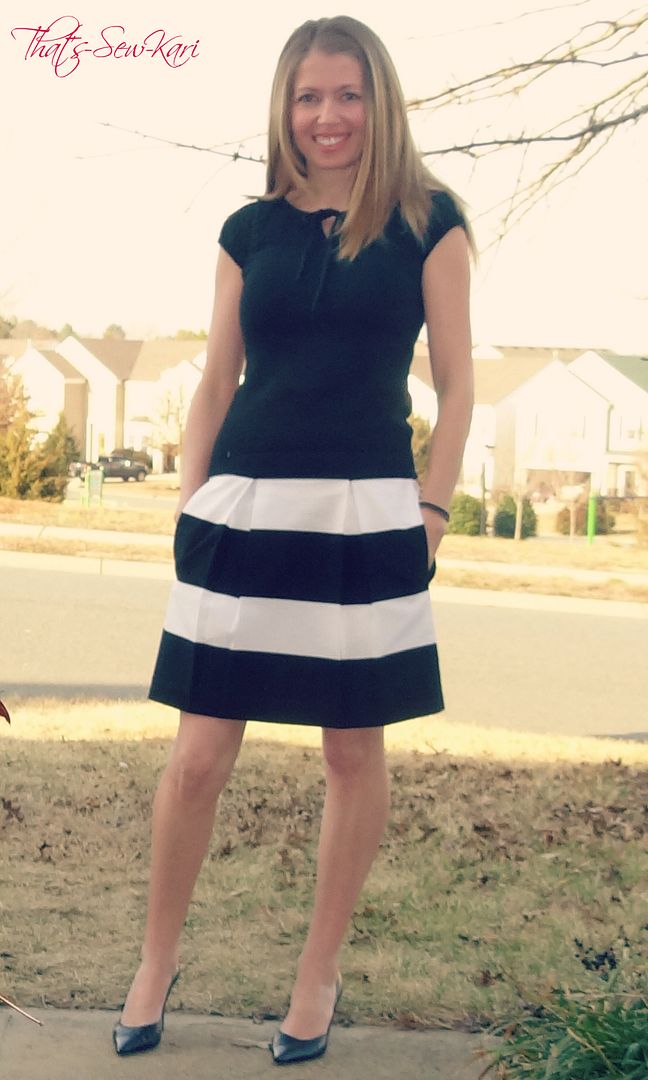 The amount of stripes and height of each stripe are entirely up to you! I sketched out my skirt and decided I wanted 5 stripes, with black being the outside stripes. I decided to make my bottom two stripes slightly taller than the others. Once I decided that, I needed to add in seam allowance (or account for the hem) so I knew what height to cut my fabric strips. Don't forget to add the allowance to both sides! Then, just piece together in the order you'd like. Keep to your seam allowances as perfectly as possible so your stripes match up properly as you continue construction of the skirt.
When you work with stripes, it's important to take the time to match them up perfectly!
The pockets, while I could have drafted a functional pocket, I decided to borrow them from another pattern I own (Sis Boom Angie). In order to place pockets at the side seams, I simply cut my fabric width into two pieces (I made the Sew Flirty Small which only had the back hem) and then followed instructions on that pattern to place my pockets. I now had a striped, pocketed tube.
Last, but not least, let's discuss the box pleats. I wish I had some mathematical formula for you and maybe there's one out there, but honestly, I just eyeballed it. I made a mark of where I wanted the pleat and then took fabric (about an inch away) on both sides and folded it onto my mark, and top-stitched them all the way down on the top stripe. When attaching my elastic, I wanted the front to be flat so I made sure to match the elastic exactly to that width and then quarter-marked my back portions (of skirt and elastic) and finished attaching.
As I mentioned before, I tried to blind hem this version and then ended up ripping out over a yard of teeny, tiny stitches. Maybe someday I'll learn... sigh.