All week long we are taking a look at patterns that are perfect for Spring, and for Easter that is so quickly approaching! Today we take a look at the Candy Castle Princess Dress by Candy Castle Patterns. And YOU can win your very own copy, make sure you read all the way to the bottom to enter!
Here is the lovely Kari sharing her two daughters in their adorable Easter Princess Dresses!
-------------------------------------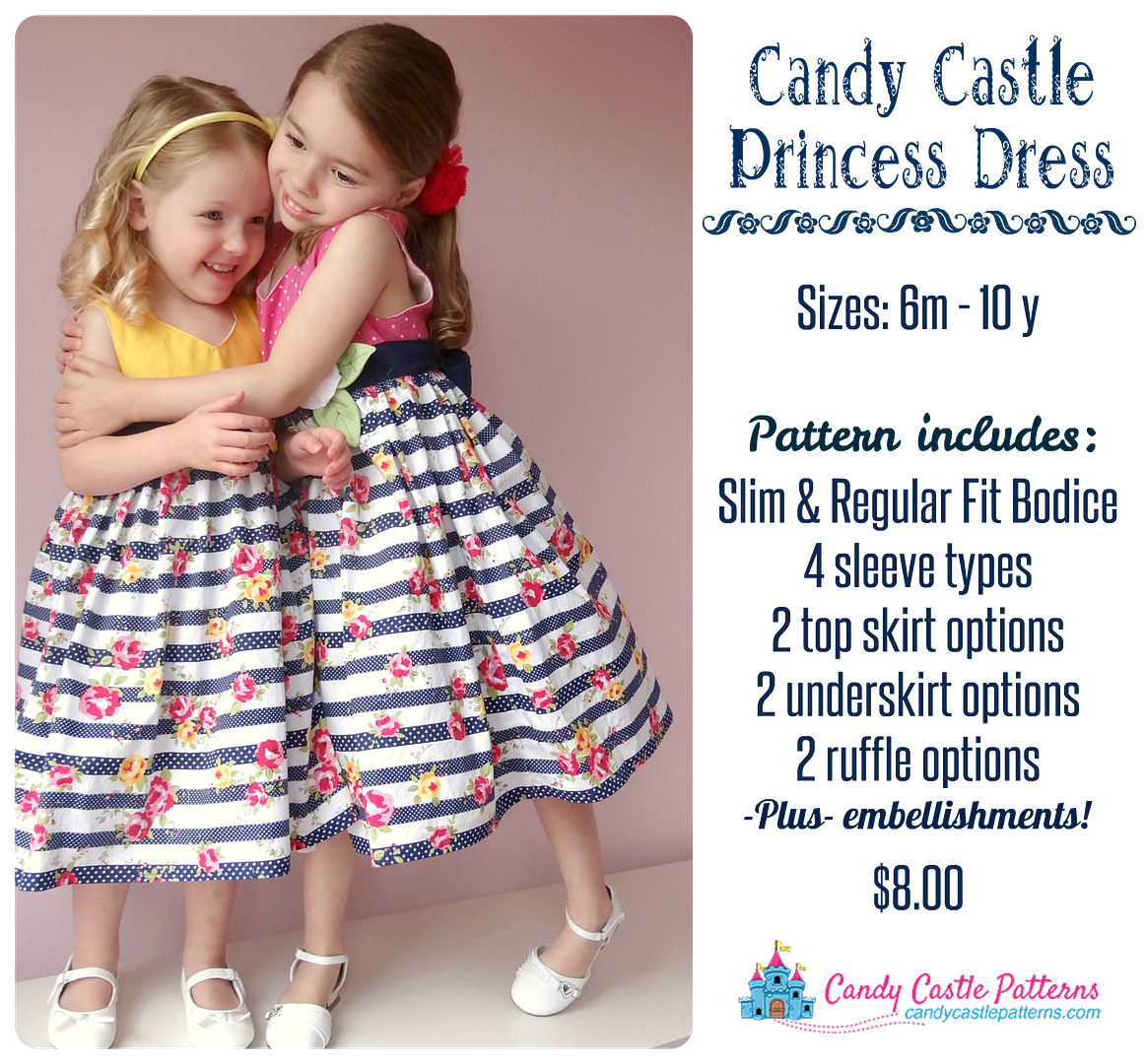 Let's delve into the pattern first, shall we?
Sizes: 6m - 10 y
Bodice comes in both slim fit and regular fit.
4 sleeve options: sleeveless; puffy short sleeve; elbow length sleeve; long. slim sleeve
2 top skirt options: paneled or single fabric
2 underskirt options: hemmed or ruffled
Embellishments included: 3 bow sizes and 2 flower/leaf sizes
All pattern pieces are nested and color-coded for each size (6 pages unless you'd like sleeves, then it's 12 printable pages).
There is a diagram at the beginning of the tutorial to show you how to tape the pattern together.
Measurement chart at the beginning of the pattern to ensure the best fit.
Cutting charts for straight cuts given in both imperial (inches) and metric (centimeters).
Step-by-step instructions with clear photos and lots of helpful tips.
Coloring sheet included so your child can design her own dress!
Pattern is suitable for an adventurous beginner.
All patterns are thoroughly tested in each size.
Extra support and help available in the Candy Castle Patterns Group on Facebook.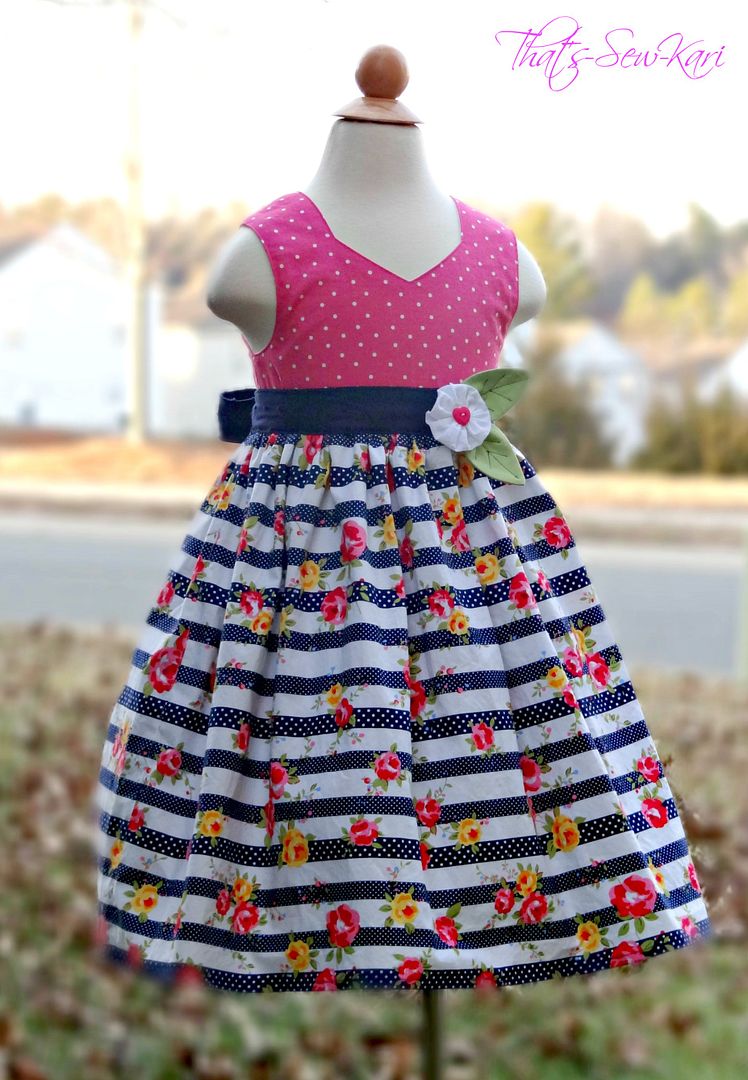 Sleeveless version with hemmed underskirt and eliminated top skirt.
Optional flower/leaf embellishment (large sizes) added to sash.
Now, lets talk about what I did and my simple change to give this pattern a whole new look:
I'm not sure I should admit this, but I've had my girls' Easter dresses finished since the end of January. I like to create items that serve a dual purpose if at all possible. So during one of the sew-alongs that happen monthly in the
Candy Castle Patterns Group
, I decided I'd take the opportunity to plan ahead.
With the skirt fabric in mind, I knew I was after clean lines to showcase the striped floral print I had picked up randomly in December. My options for the January Sew-Along were
The Peppermint Swirl Dress
or The Candy Castle Princess Dress. Right away, the Swirl was eliminated as I'd have to chop into those stripes that I so loved. This left me with the Candy Castle Princess Dress of which I've sewn
several over-the-top costumes
. Here is a picture of the variations found in the Princess Pattern:
As you can see, all of the options contained both a top skirt and an underskirt. I found an option that was missing, however. If I eliminated the top skirt, I was left with the clean lines I was after. It was this simple change that gave my Easter dresses a whole new look and matched the vision I had when I purchased the fabric.
View of the squared back bodice. Buttons or snaps are used as closures on this dress.
Before you begin this pattern, it is important to measure properly and use the measurement guide. This bodice is rather fitted and intended to be so. The bodice comes in both slim and regular sizes. The regular sizes are intended for boutique owners who cannot measure the child in person so some extra ease has been added. Because my girls are both very slim, I sized down to the bodice appropriate for their measurements. I do not recommend sewing a larger size so it lasts longer (I actually made that mistake when I made my 3 yr old her
Minnie Mouse version
). Please, as with any new pattern, sew a muslin bodice first.
Bodice is fully lined and all seams are enclosed in the sleeveless version.
The only other change I made was I used the sash measurements from the
Peppermint Swirl Pattern
. It has a narrow sash topstitched on afterwards whereas the Princess Dress has a wider, side-pleated sash sewn in the side seams.
After you sew your dress, it's easy and fun to add the embellishments included in the pattern. Here are just a few examples of embellishments I've made since getting the pattern:
Now, I'm all set for Easter! Are you? No worries if you're not. There is still plenty of time to sew up the perfect dress for your daughter, granddaughter, or niece.

Visit
Candy Castle Pattern's
to view her
entire pattern collection
&
take a look at the pretty
European fabric and trims in her
to keep up with what's next!
Candy Castle Patterns has graciously donated
a copy of the Princess Pattern to one lucky reader -- will it be YOU?
a Rafflecopter giveaway