Today we take a look at the first pattern by designer Lauren Dahl, creator of the Pattern Workshop and her design company Selvage Designs.
This knit pattern runs sizes 12m-12 years and has such a wonderful back detail and fun pockets.
We're giving away a copy at the end of this post, so be sure to enter. Check out Kari's review for all the details about sewing this up!
--------------------------------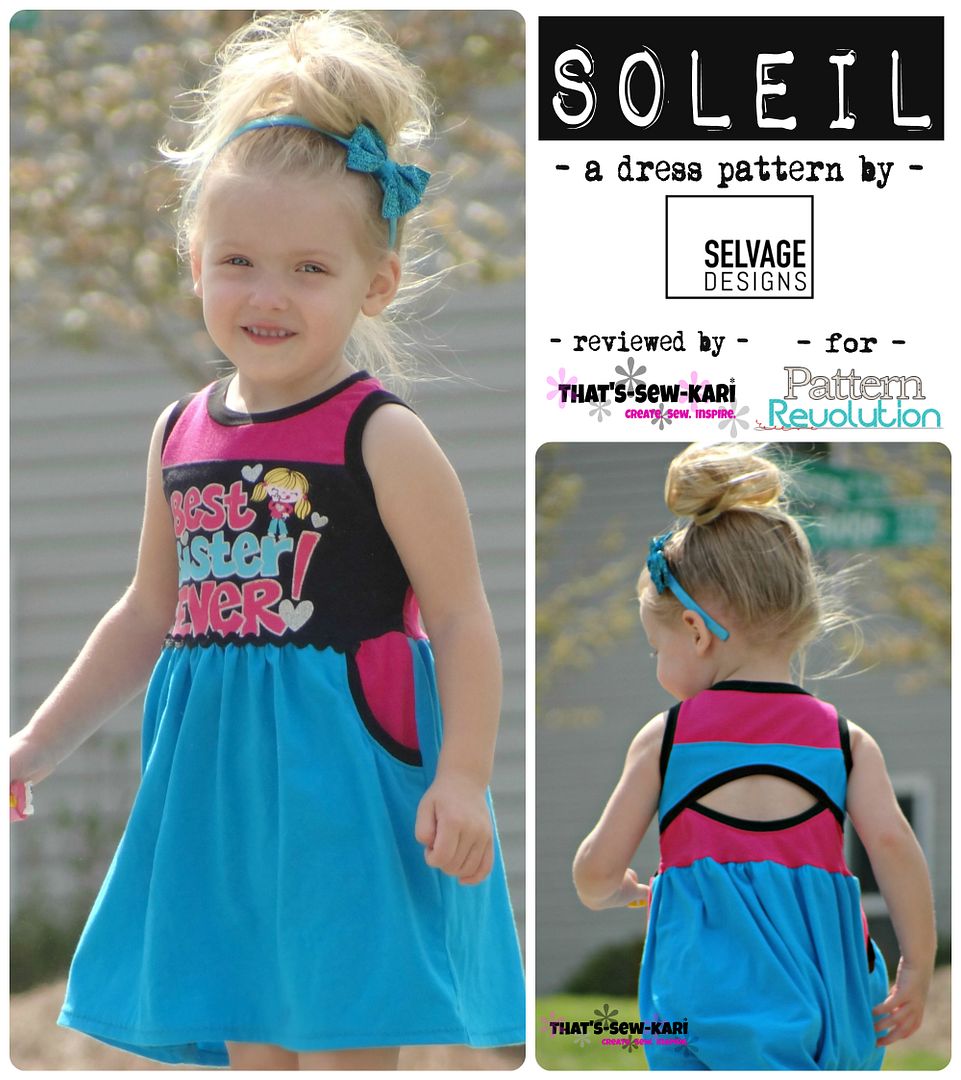 Hi, I'm Kari from
That's-Sew-Kari
sharing my review of the
Soleil Dress
by
Selvage Designs
- an all-knit tank dress with a unique back cutout (optional) and large pockets for sizes 12m - 12y. I'm happy when I have a chance to try out another designer I've never sewn before. I enjoy seeing how each designer organizes her tutorial and if there is something new I haven't seen. I think you'll like some of her features just as much as I do!
My girls are all about comfort & style and I love when a pattern merges the two. All-knit patterns are definitely my girls' favorites of all that I sew. I know because they leave them on for hours after we finish photos. The back is my favorite feature of this dress and while it's optional, I
know
I will include it on all future Soleils I sew.
Grab your favorite pair of shades because I'm about to shed some light on the pattern...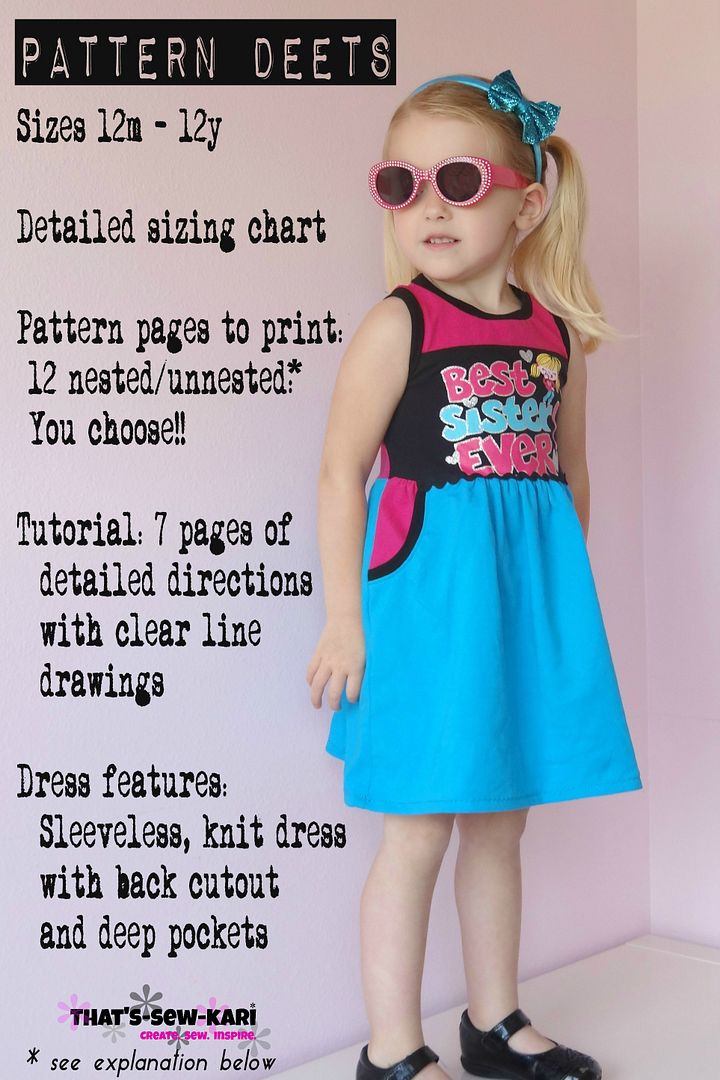 The size range is rather large so it will last you for years. Included in the pattern is a very detailed sizing chart as well as finished size chart. This way, you can mix and match the sizes to best fit your child. I sewed an 18m bodice with a 2t skirt. On my next one, I will likely lengthen the bodice to the length of a 2t to accommodate her height (totally my fault...) and I will double check where my cut will be if I choose to upcycle another old shirt. (I had a look of total shock and horror when I realized I cut into the very bottom of my graphic with no room for SA)
The printable pattern area is freaking awesome! The sizes come nested, BUT they are in layers in the PDF file so you just choose the sizes you want to print! I've never seen this before and I'm rather giddy about it. Technology excites me... is that geeky?
The tutorial is 36 steps long that spans 7 pages. There are line drawings with each step and they are highly detailed! Follow step-by-step and before you know it, your kid will sporting a cool, new dress.
I love the cutout in the back. It's easier than it looks to do too! Of course, this step is optional and the closed-back bodice pattern piece is included.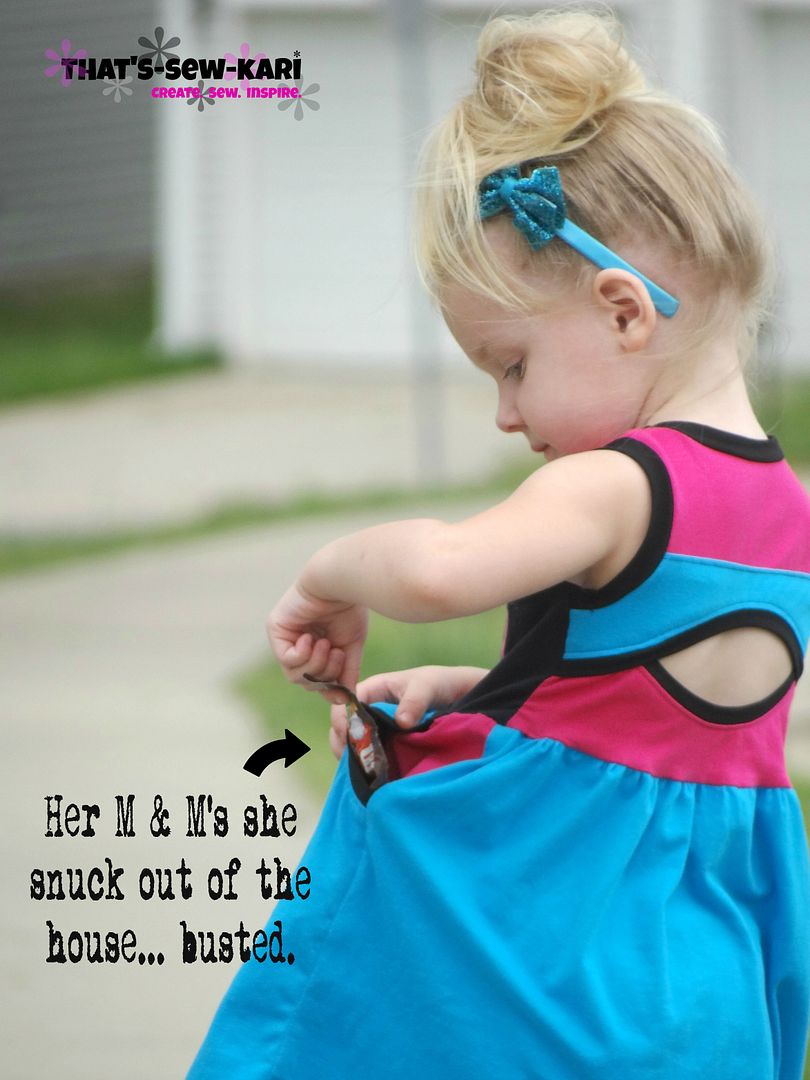 Love the colorblocking detail I added!
Did you notice the pockets? My girls love their pockets, especially when they can hide things like a bag of M&Ms in them... LOL
P.S. Don't miss the step where it tells you NOT to gather the pockets, even a teeny, tiny bit. I ended up with a slight gather because I didn't feel like kicking my 5 yr old off the computer to double check that step.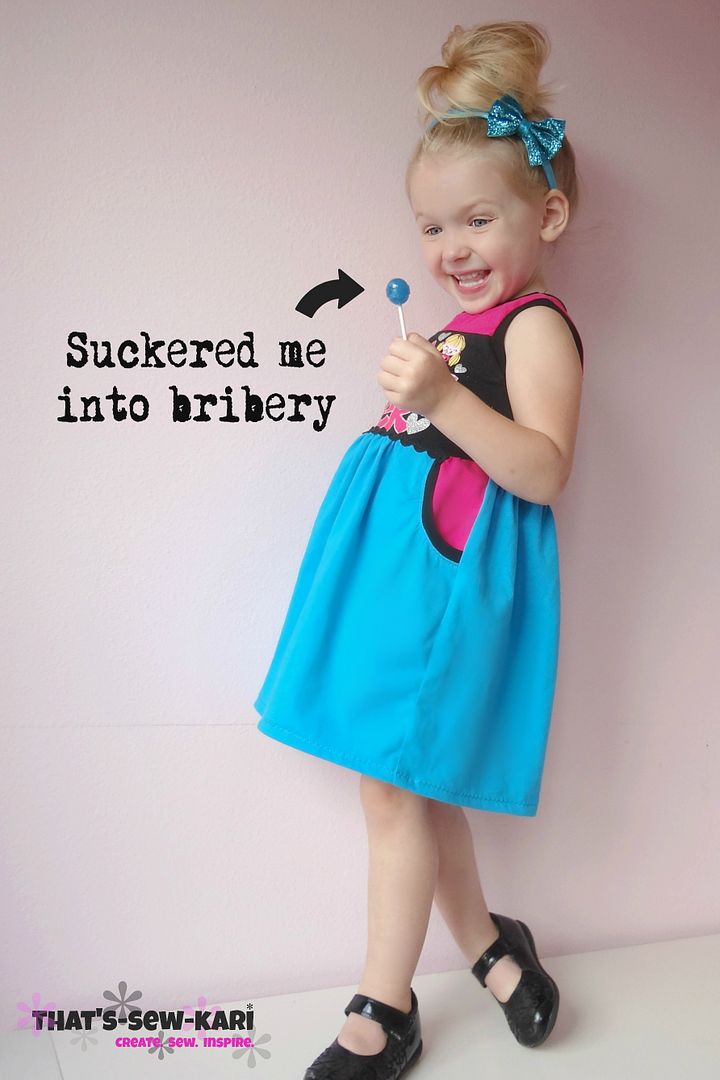 She was purposely tanking her photos until I gave her a lollipop.
Some quick details on the fabrics I chose: I actually made this dress completely by upcycling! I used an old favorite t-shirt of hers for the graphic and as the main focal point. Then, I used 3 knit/lycra tank tops in coordinating colors that I had bought at Walmart on clearance last summer. On the upper part of the back, I colorblocked it to match the colorblocked front (and because I didn't have enough turquoise -- happy accident, right?) I also added a small strip of black ric rac across the seamline between the pockets to make my graphic cutting mistake slightly less noticeable. And if she grows too much before the end of the summer, I'll add a black ruffle to the hem area to add just a bit of length.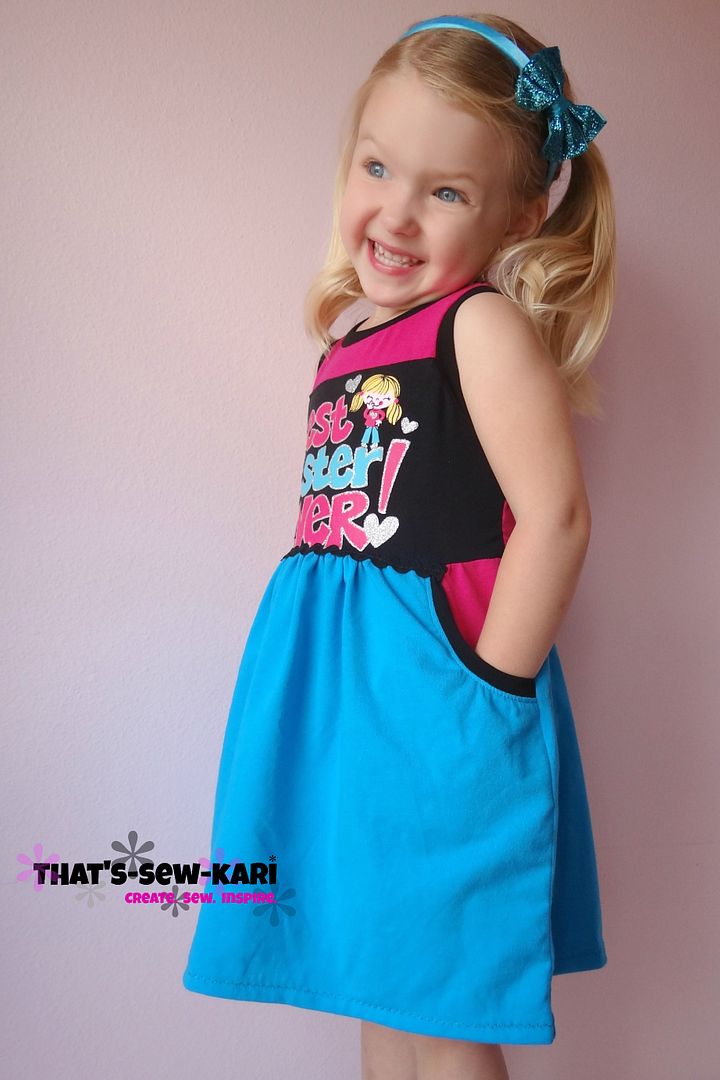 As you can see, my daughter is sporting quite a sunny disposition wearing her new Soleil. The pattern was easy to print and a breeze to follow along. The dress has such a cool, summer vibe that I know before the summer is over, both girls will have several in their closets. My only complaint is that the length measurements for the binding are not included due to differences in knit choices. I had to rip some stitches a few times to get it just how I wanted it. I also prefer to sew my bindings on in the round so the seams are hidden. Since I tend to use the same lycra blend for my bindings every time, it will be an easy fix to make.
BOTTOM LINE: The pattern is a winner and I found another designer to add to my list of favorites!

and remember to join the
mailing list
to get up-to-the-minute information
regarding pattern releases, sales, and tester calls!