Hello again!! I'm Nichole, stay at home mom to two littles. I really enjoy sewing up some pretties for them whenever I have time. Which some days, we all know, there doesn't seem to be enough!
I was really thrilled when asked to review The Abby Dress by KidZmoments. I just fell in love with those back ruffles!! Are you kidding me, adorable!! And that side button closure? To die for! Finally, a dress that I felt was different from the rest. (because we all know...there is a LOT to choose from)
So..cute eh?? Lets get to the nitty gritty. I have to say that I was a little unsure of what size to choose to make. I know that the Aussie patterns are sometimes a little different that here at home size wise. And my daughter was falling between a size 1 and 2. (She is going to be 4 this summer) I decided to go with the size 2 as she was closest to that, and ended up being a little bummed about the fit. Fit's great in width, but I felt the neckline came down a little too low. As well as the arm pit. But as a recommendation, I would suggest whipping up a quick muslin bodice, (no ruffles) to check the best fit.Ya know, like I should have done. ;)
Added some contrasting bands to match our watermelon theme.
But obviously, not all is lost! Throw a little white tee under it and bam!!! Perfect!! With all that out of the way, I 'll give a quick run down of the deets.
Seriously..isn't this adorable?
Pattern comes in sizes 1-6 (chest size 20.5" -24")
Consists of both hand drawn pieces and cutting measurements. (I was a little disappointed to see the hand drawn, BUT, they were very precise. She has the seam allowance written on each piece, which I found very helpful)
Pattern pieces were NOT nested, and you can find in the cutting guide which pages you need for your size. Sweet!
Not a fabric hog. You can make each size with less than 2 yards.
Directions: Tutorial flows along nicely, with pictures for most. There were a few times that I had a hard time following along which picture went with which step and some confusion followed, (cough..pockets..cough) but overall it went smoothly.
The pocket detail fabric piece I would definitely increase the length of, as my pleats ended up being rather short compared to her pictures.
Start to finish, with a few breaks, took a couple of hours. Will certainly go quicker the next time as I won't get hung up on directions.
So, over all...we love this dress. My daughter absolutely loves it!
-----------------------------------------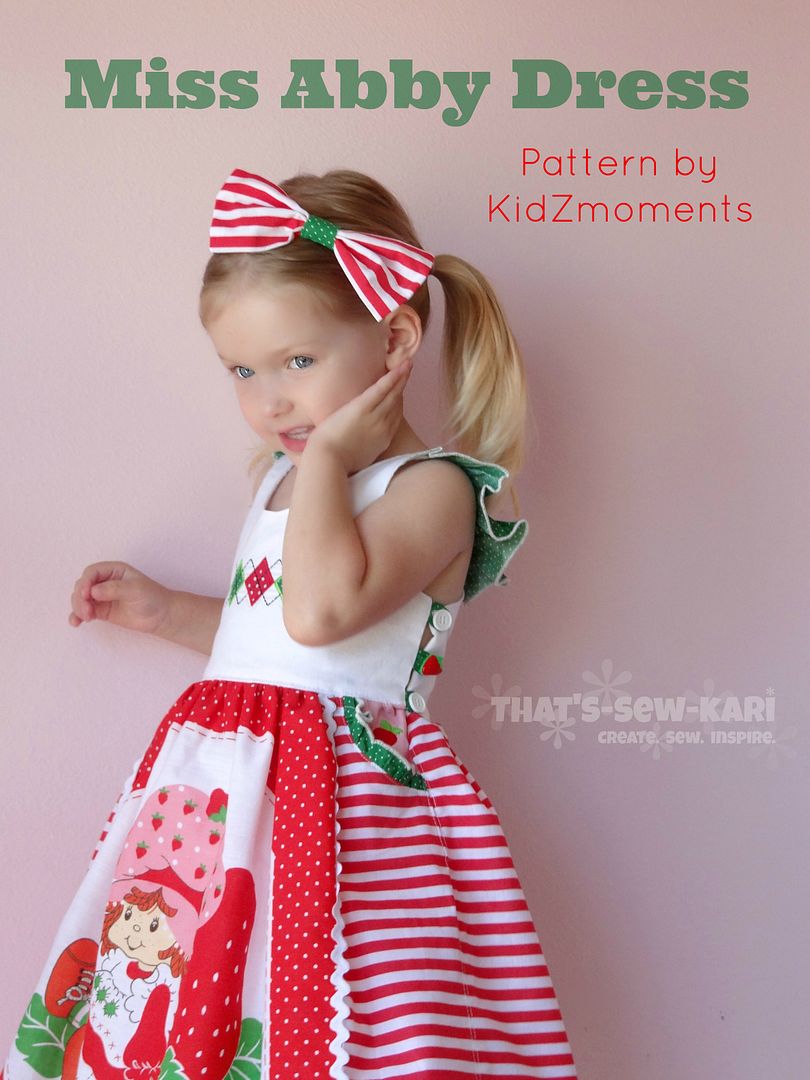 Hi, I'm Kari from
That's-Sew-Kari
with a review of a sweet dress for all seasons that is full of detail! The
Miss Abby Dress
is by
KidZmoments
, a designer based in Australia. Of course, summer is on my mind so I've sewn up a super summer-y version, perfect for strawberry pickin'. But, come fall and winter, I'll just pop a t-shirt underneath.
The details of the dress are what drew me in and I sure had fun playing around with them. I especially love the side buttons and the pocket detail, although I opted not to pleat the trim here.
The pattern covers sizes 1-6 (chest sizes: 20.5"-24"). I must make
ridiculously
skinny kids because both my 3 & 5 year olds measure into the size 1 (*in bodice size). I decided to trust the chart, and I can say, it's accurate!! Sizes are really just a number anyway. And the way I look at it, my girls will be using this pattern for years...awesome!!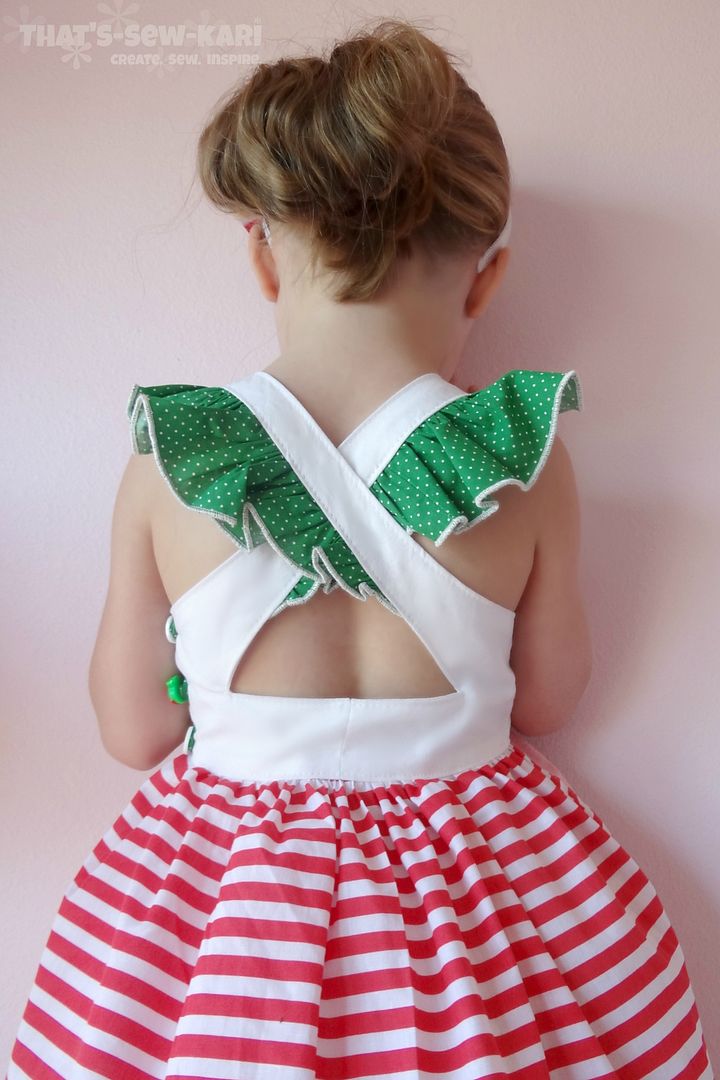 I love the unique back and the fact that all the seams are hidden. The lining even covers the seam where the skirt is attached. I opted to topstitch my bodice out of habit and preference. I was able to topstitch the entire bodice in one continuous line!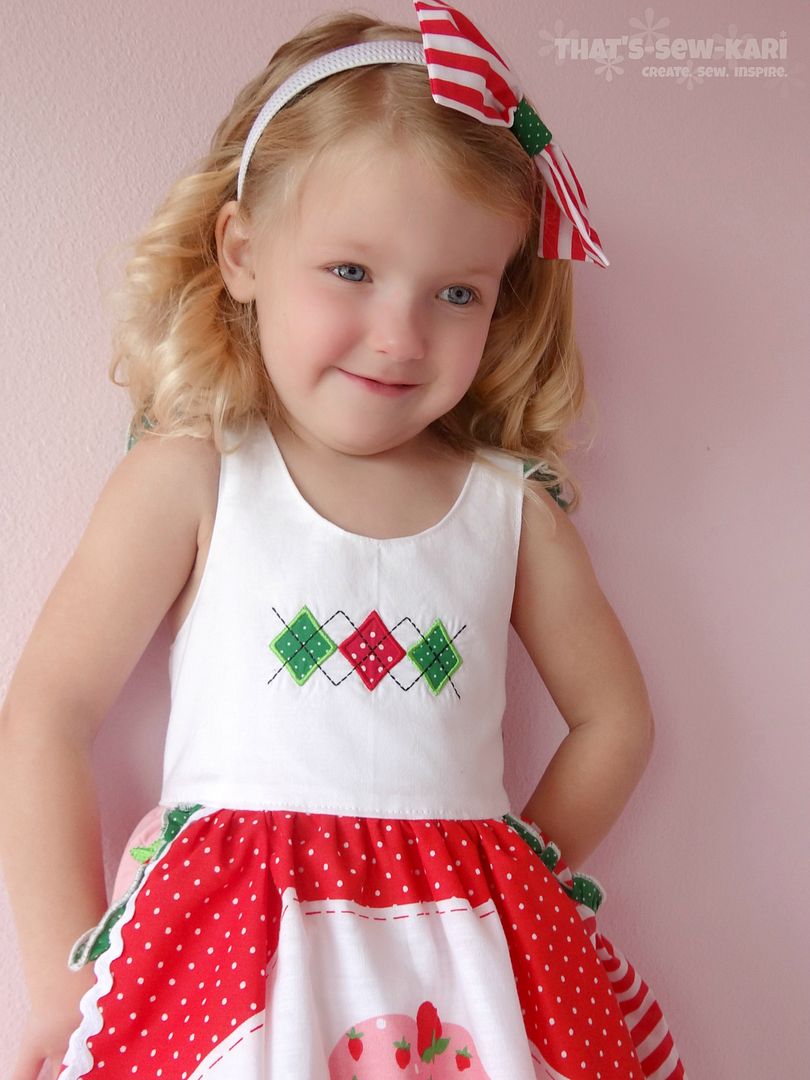 The bodice can be left plain or you can jazz it up with an applique or embroidery. I chose an embroidery/applique combo reminiscent of Strawberry Shortcake. I also embroidered a little strawberry peeking out of each pocket.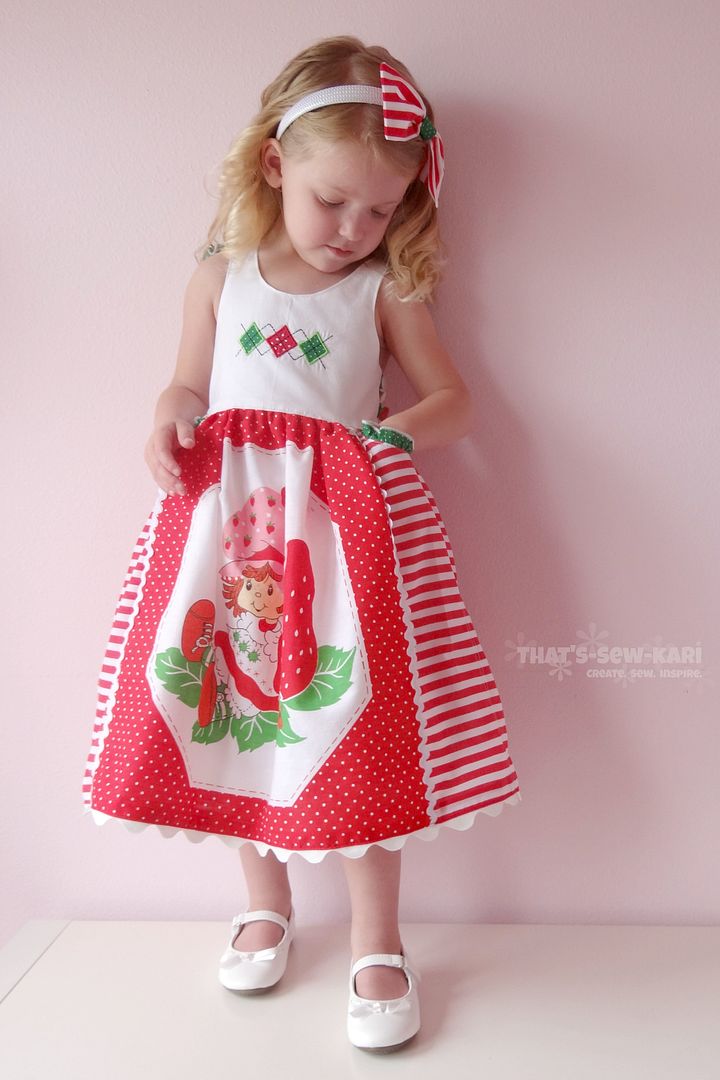 The only thing I forgot to account for (there's always something, right?!) was the fact that the size 1 bodice may be shorter than intended on them. As you can see, my daughter has to bend her arm quite a bit to get into the pocket. Next time, I will make sure to add on the missing length so the pockets are in a better spot.
A couple changes I made: I used a rolled hem and gathering on the pocket trim; I added ric rac on the front and hem of the skirt; I pleated the striped fabric next to the pocket so I could gather my Strawberry Shortcake panel less; I added embroidery on the bodice and pockets; I let my Strawberry Shortcake panel dictate the length of the skirt.
BOTTOM LINE: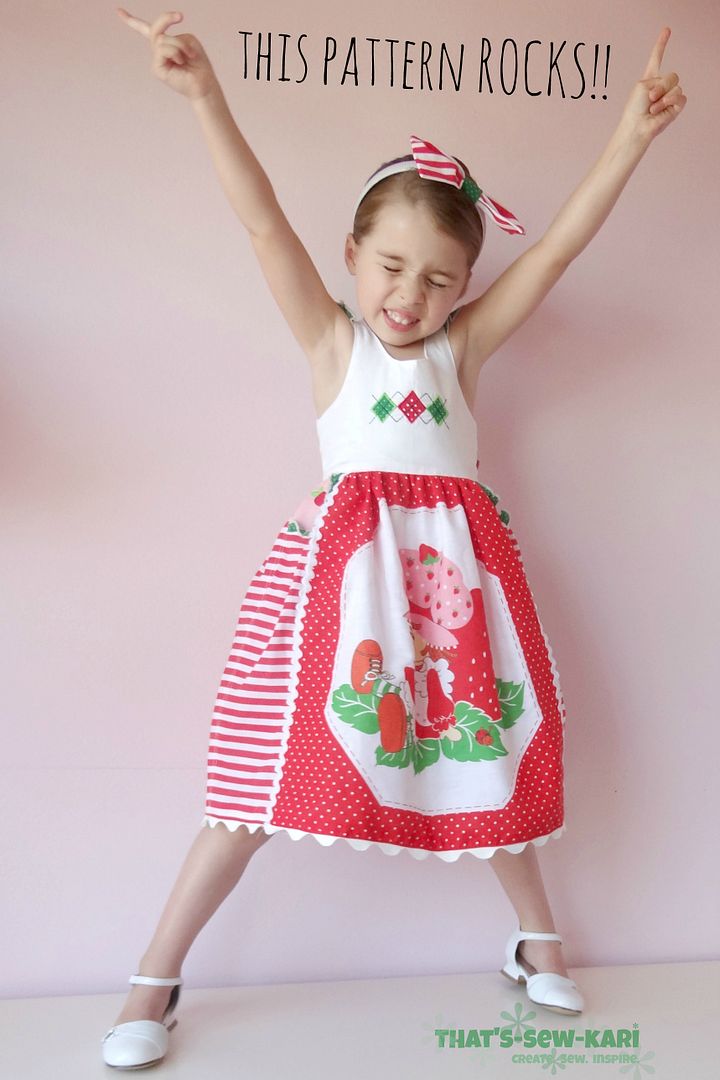 I had fun creating a one-of-a-kind Strawberry Shortcake dress for my girls. This pattern is well-written and easy to follow -- don't let the hand-drawn pattern pieces deter you!
Thank you to my friend Nicole for the fantastic, vintage Strawberry Shortcake panel, and to my friend Rebecca for the strawberry buttons you sent months ago!
check out her other dress pattern, Miss KC Dress.

Coupon Code MISSABBY for 20% off the pattern today!
Enter To Win Below!