Today we take a look at the Lulu Pattern from Craftiness is not Optional. There is such a sweet simplicity to this pattern that just makes me think of kids at summer time play. It is the kind of dress you can see them sliding down slides in, and eating juicy pieces of watermelon, and running and running and running in........... oh wait, maybe only my kids run that much ;o)
The Lulu pattern is designed for knits and comes in sizes 12m-8yr. Here is Kari to tell us all about it!
---------------------------------
Hi there! I'm Kari from
That's-Sew-Kari
back with a review of another fun, everyday, play dress -- the
Lulu Dress
by
CRAFTINESS is not OPTIONAL
. It's technically
way past
my older daughter's turn for a new outfit, but I just HAD to sew one up for my 3 year old first. You see, we have a dog named Lulu and Miss 3 is absolutely smitten with her. They are bestest buddies. She is loving her Lulu Dress!!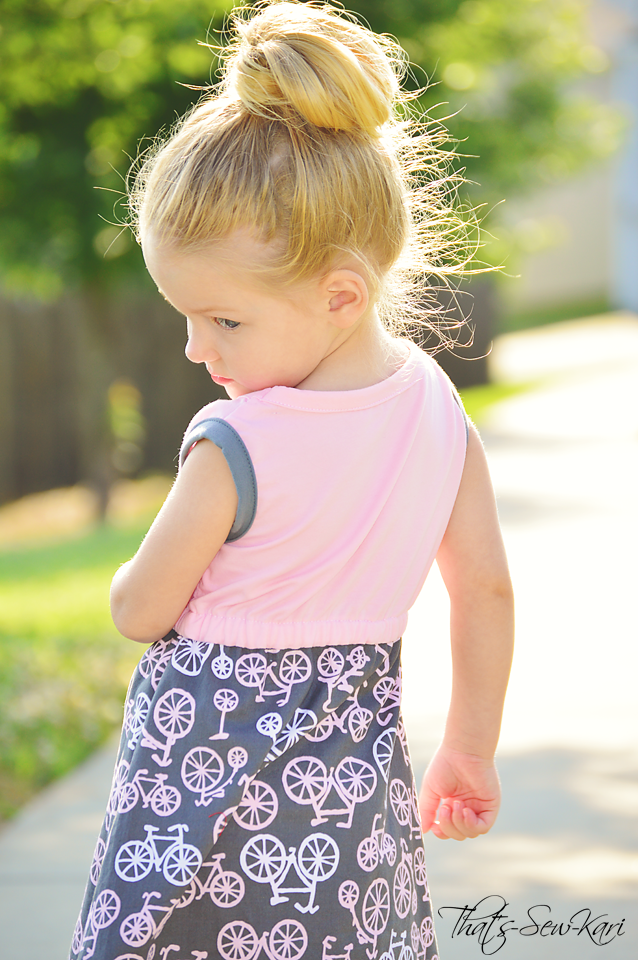 "You wanna see the back?"
Lulu can be made entirely of knit or you can substitute the knit skirt portion with your favorite woven fabric, if you'd like, like I did. There are so many options included in this pattern. It was so hard to choose which ones to include. Options included are: sleeveless or cap-sleeved bodice, faux bodice placket, bodice pocket, skirt pockets, faux drawstring, and top or dress length. In the end, I ended up choosing the sleeveless dress with faux drawstring and mini chest pocket.
Close-up of bodice detailing -- pocket, faux tie, and bias binding.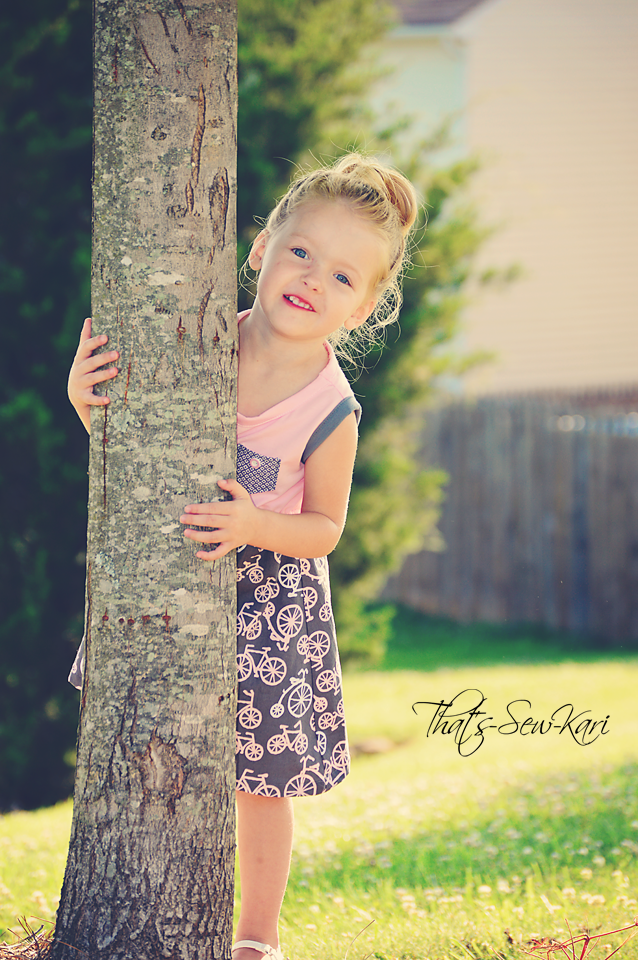 Peek-a-boo, I see you!
Let's take a closer peek into the pattern, shall we?
Sizes: 12 months - girls 8

Pattern pages to print: 16, B&W and nested; contains all pieces needed

Tutorial: 16 total pages of instructions, including all options available; gorgeous computer-drawn graphics; very thorough instructions

Charts included: Size & Finished Size Chart, Yardage Chart

Helpful hints section for working with knit fabric
Perfect for dancing with your shadow!
Although the pattern pieces take up 16 pages, you actually get a lot of bang for your buck...er, ink. First off, it contains every piece you'll need! The *only* item to cut that you will need to refer to a chart is the elastic measurement. Secondly, you could actually make two complete outfits, two different sizes even, with one simple print and no tracing! The skirt pieces are separated by top length and dress length. The bodices are also separate - cap sleeve or sleeveless. So I could sew my 3 yr old her sleeveless dress and cut out the cap-sleeved top for my 5 year old!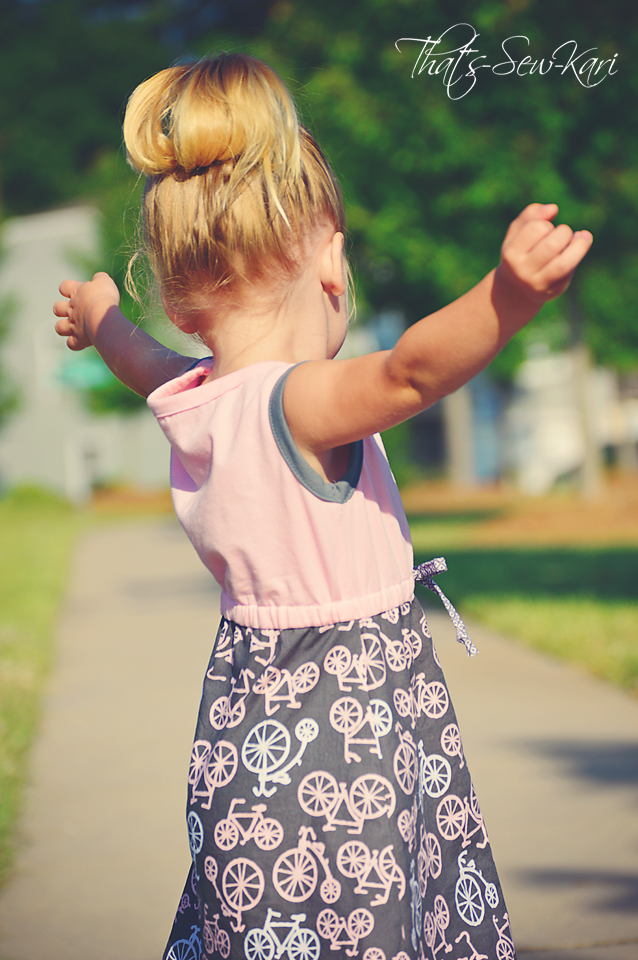 Shot of the arnscye.... not too big, not too small!
I mentioned above that the tutorial was very thorough with gorgeous computer-drawn graphics. The pictures were nice and big so I could see exactly what the instructions said. This part really impressed me.
Of course, she had to see if there was something in her pocket. Haha
This pattern would be great for border prints or any coveted print that you don't want scrunched up by gathering. The only gathering in this dress is from the elastic in the waist. Also, because there isn't any heavy gathering, you use minimal fabric!! Score :) I will admit, I was mildly disappointed that the drawstring was faux. I know, it's for safety reasons, but when I first saw a pic of a tester picture, I got excited that someone finally made a drawstring-waisted dress. Whoops.
The binding method used here is different than the other knit dresses/tops I've sewn. It actually goes on like bias tape. I did add one step here and applied it how traditional bias tape is sewn (rather than the cheat method of just encasing the raw edge of the fabric), of course, stretching the binding since it's knit.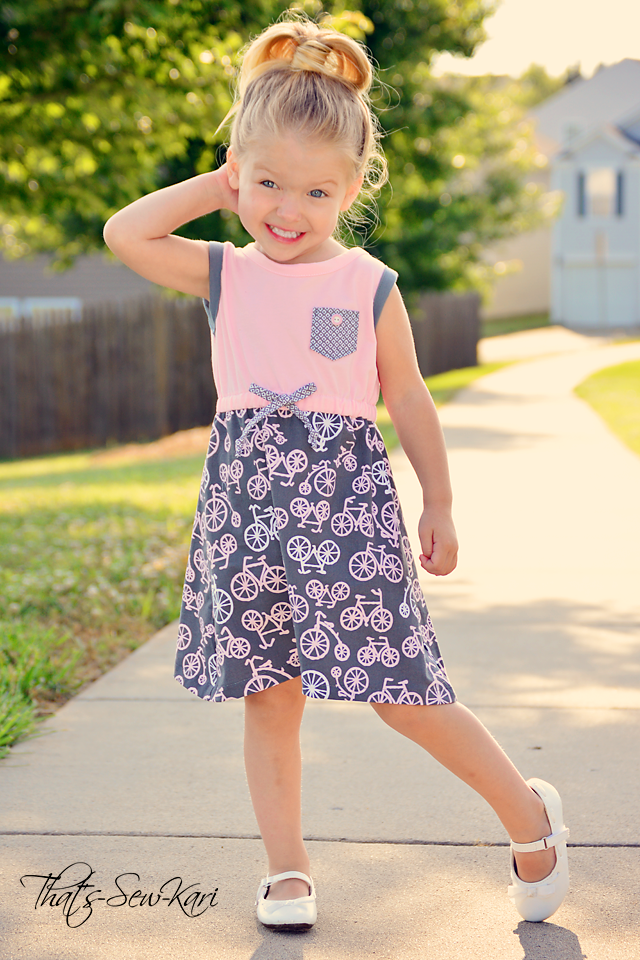 "Ummm, I'm going to need some more of these.... m'kay, thanks!"
And finally, fabric choices -- I cut some hoarded
Michael Miller "It's a Girl Thing Bicycle Bloom"
print for the skirt and upcycled an XL pink (and gray for the binding) knit lycra tank top from Walmart. The gray pocket and tie is also Michael Miller (Dot-N-Square Gray). It took me a while to decide my fabrics. In the end, I consulted Miss 3.
This dress is super quick to put together -- a couple hours and you are done!! I will be making more of these.
Be sure to check out the pattern shop for
CRAFTINESS is not OPTIONAL