Hello again! I'm Kari from
That's-Sew-Kari
and I am here to share my review on the
Bentley Harness
by
Stitchwerx Designs
. The Bentley Harness is a dog harness pattern -- but really, it contains so many options that if you had an entire house of dogs, you could create each of them a unique harness. There are trim options, pockets, harness handles, ruffles (or not), nylon webbing & parachute clips just to name a few.
Here are few other highlights from the pattern:
Sizes XS - XXL (Girth: 9" -21")
Pattern pages to print: Varies from 2-6 pages depending on size (add a couple if you want pockets)
Pattern pieces are unnested in B&W so you just print the size(s) you need
Tutorial: Spans 16 pages and broken down by section (not all options may be used)
Tutorial Style: Very thorough with clear pictures for every step of the way
Charts included: Size, Fabric Yardage, and Ruffle/Accent cutting measurements
A plethora of options to make it unique
Suitable for a confident beginner
Meet my dog, Lulu! She is a full-blooded rat terrier and I swear, she's all ribs! Her ribs measured into XXL size,. but her neck into a size L. After talking with the designer, Kim, I decided to sew the XXL and tighten the neck if needed. Since Halloween is right around the corner, I decided to jump-start my list and get one of my items crossed off my list.
I opted to do a simple harness with just a D-ring at the neck (if I want to clip a leash on her) and use it as a blank canvas to create a spooktacular ghost. It sewed together really quickly (almost too quickly.... as I forgot I was going to do black piping all the way around - whoops!)
Of course, I had to add a ruffle and a bow to make it girly for my pup so there was no mistaking her for a boy dog. I think I'll need to do a Jack-O-Lantern for my other dog, Black Lightning (can you tell which one I named versus my husband?!)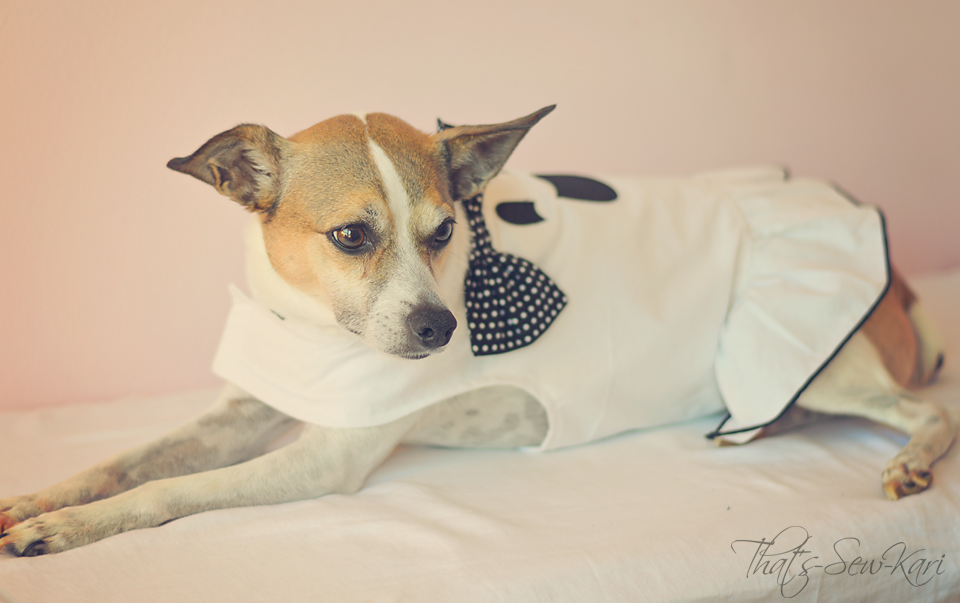 Dogs come in all shape and sizes -- measure well and you'll get the best fit. Next time, I may try a smaller neck on top of the "body" portion so it will sit higher. All in all, I think the fit is pretty great!
I've also sewn several other of Kim's designs (kid's clothing) and each time, I get a great result with a straightforward sew. Never do I find myself scratching my head trying to decipher portions of the instructions. If you have a dog you like to dress -- get this pattern!
P.S. Photographing dogs is harder than you think!!