Hello everyone, it's Marnie here back reviewing a dress that took the sewing world a little by storm when it was released earlier this year. It's the Charleston Dress by Hey June Handmade and boy oh boy, is it a little beauty!!! And yes that is some Australian slang for you, I aim to slip as much in as possible.
The Charleston Dress is one of the few dresses that I have not seen anywhere on social media look bad on anyone or any body type. It really caught my eye and both Lisa (see her pictures below) and I were REALLY happy with the results of using this pattern. And Lisa actually said in a discussion with me "I love this dress, this is the kind of style I can never buy to fit me in ready to wear." I agree with her 100%. So here is my opinion on what makes this dress so flattering.
The Charleston dress is sized for knits and covers a huge size range - from size 0 through to size 20. It includes 2 different skirts - a fitted skirt and a pleated skirt (my version), and seven different sleeve finishes. The pattern includes thorough instructions for inserting a zipper and as all knits are not the same, very clear instructions on which types of knits the pattern has been sized for. There are some really good sized pockets, which easily fit keys and phones, and they are especially handy for hands during photo posing when you feel particularly awkward and don't quite know what to do with them. And the bodice of the dress has my most favourite types of seams for fitting a close fitting bodice - princess seams, which are seams that run from the shoulders down to the waist over the bust line. It makes it possible to get a really fantastic fit with princess seams. The pattern instructions are clear and easy to read and if you pay strict attention to the instructions at the start of the pattern - which strongly advise you to make a muslin to understand how this pattern will best fit your body, you will be delighted with the end result.
For my dress, I used an Art Gallery knit (cotton lycra or cotton spandex) and omitted the back zipper as I knew that there was enough stretch for me in the fabric to wear comfortably and get in and out of without the zipper. I made skirt version A, the pleated version, and for the bodice and sleeve, I made the short sleeved version. It is a little crazy of me considering that Winter is almost here...but I've had this material sitting there for a couple of months and in my head I'd always planned to make a Charleston out of it, so I was keen to see how it looked all sewn up. I made a few adjustments that are standard to me - lengthened the bodice slightly, lengthened the skirt seeing as I am taller than the sizing clearly mentioned on the pattern; moved the shoulder seams out slightly, removed the zipper and seam allowance for the zipper and lowered the neckline slightly. Most of these alterations are standard for my body - I pretty much always need to make them and to get the best fit for you, it is important to understand where you need to change things for your body shape.
Overall, I love this dress and was delighted with the pattern. I feel younger and trendier in my dress and Summer or Winter, it's definitely a dress that every lady should have in her wardrobe. Now I'm off to cut out a more seasonally appropriate version!
Thanks for reading along and happy sewing,
Marnie
Lisa's version:
View B, ¾ sleeves, fabric is Ponte de Roma from Girl Charlee.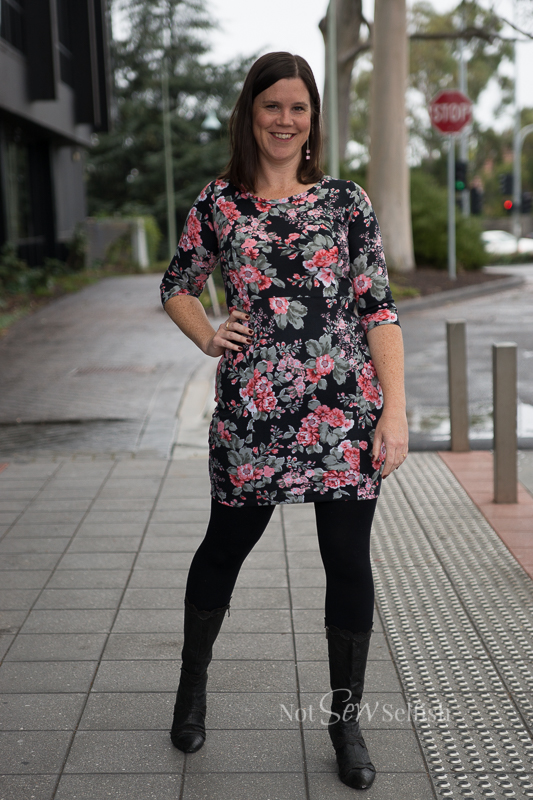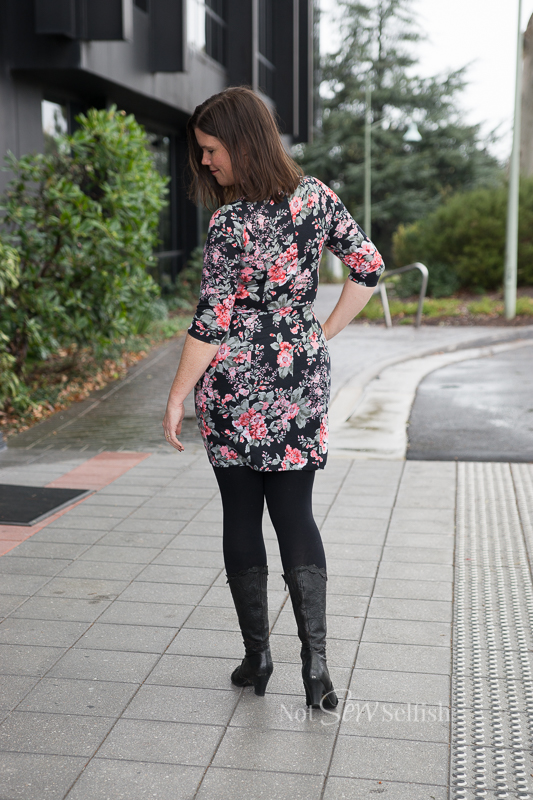 Carrie's Version- Sleeveless